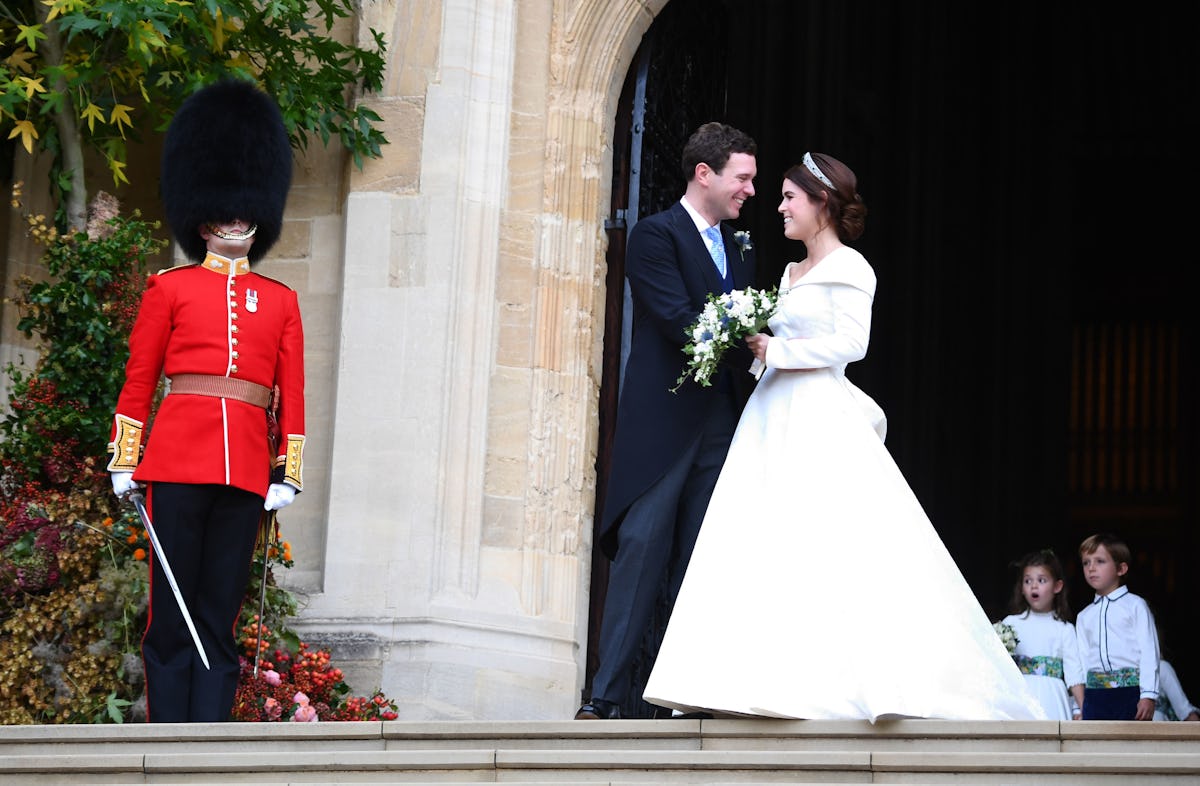 Princess Eugenie's Wedding Cake Honestly Sounds Amazing, So Cut Me A Piece
WPA Pool/Getty Images Entertainment/Getty Images
I don't know about you, but when I go to weddings, I'm usually most interested in the cake. And with Princess Eugenie's wedding on Friday, Oct. 12, you'd better believe my eyes are peeled for cake updates. If you watched the last royal wedding, Meghan Markle and Prince Harry's cake was straight up gorgeous, so you'd better believe I have sky-high hopes for this one. Anyway, please read on for an in-depth comparison between Princess Eugenie's wedding cake versus Meghan and Harry's. Both are absolutely splendid in their own ways, but only one can actually take the cake (LOL no pun intended).
If you haven't already heard about Princess Eugenie and Jack Brooksbank's wedding cake, it was baked by famous cake designer Sophie Cabot, and if you haven't already heard about it, get ready, because it sounds absolutely delicious. According to The Daily Mail, the base of the cake consists of rich red velvet, and it's totally smothered in... wait for it... rich chocolate icing. Really, though, how good does that sound? Red velvet and chocolate? In all honesty, it sounds totally and utterly fit for British royalty. I could honestly go for a slice right now.
Meghan Markle and Prince Harry's wedding cake, on the other hand, was a little more "traditional" tasting and less "traditional" looking. Designed by Claire Ptak, the base consisted of an airy sponge cake and it was filled with a light Amalfi lemon curd. Then, it was iced with elderflower buttercream, which came from The Queen's Elderflower trees at her residence in Sandringham. Unlike most traditional wedding cakes, it was not multi-tiered, it didn't come with bride and groom toppers, and it was simply displayed on three separate gold dishes. While it sounds slightly less gaudy than other wedding cakes, it was simple, sweet, and fruit-flavored in traditional royal fashion, like most royal wedding cakes tend to be. Honestly, if you ask me, I think it was absolutely perfect for Meghan and Harry.
Looking at her cake selection, Princess Eugenie maybe doesn't have a ton in common with Meghan Markle. And, based on her style selection, she seems pretty different than Princess Diana, as well. Di preferred solid colors, simple suits, and went for more conservative looks. Eugenie, on the other hand, is all about patterns, hemlines above the knee, and wild, bold colors. While the two princesses probably would have been friends (I mean, both of them are phenomenal women), they probably wouldn't have gone on a shopping spree together. Oh well.
Princess Eugenie's cake is pretty impressive, and compared to Meghan Markle's one might say it was a little flashier (and maybe tastier... debatable). Anyway, both cakes looked absolutely marvelous, and in the end, the cake is just a (super tasty) perk. I'm sending my best wishes to the two royal lovebirds, and if you're at the wedding RN, please, please, please snag me an extra slice of that gorgeous cake. Just send it to Brooklyn, it'll be fine. Please and thank you.