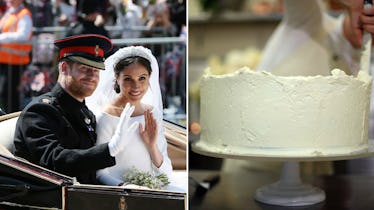 These Photos Of Meghan & Harry's Wedding Cake Are Not What You'd Expect
WAP Pool/ Getty Images
One of the most important parts of any wedding is the wedding cake. It doesn't matter if you're throwing the smallest wedding that the world has ever seen, or wedding fit for a British royal — the cake is a crucial element in any wedding. I'd personally expect a British royal wedding cake to be more extravagant than the rest, but these photos of Meghan and Harry's wedding cake prove that this royal couple is truly an original one.
When you think of a royal wedding, elegant and extravagant are two of the fist adjectives that come to mind. So when I saw these pictures of the relatively simple cake that Meghan Markle and Prince Harry will feature at their royal wedding reception, I was pleasantly surprised.
On the day of the Saturday, May 19 wedding, Kensington Palace tweeted the official photographs of the royal wedding cake to share with the world. The Palace described the cake as such,
The wedding cake is to be served at the Reception. It was designed by Claire Ptak and features elderflower syrup made at The Queen's residence in Sandringham from the estate's own elderflower trees, as well as a light sponge cake uniquely formulated for the couple.
The photograph that was shared was surprising for many reasons. First off, the Duke and Duchess of Sussex's cake was not your typical multi-tiered wedding-style cake, complete with bride and groom toppers. The three separate cakes were displayed on different gold dishes, and were adorned with what I presume are an assortment of fresh flowers.
Aside from the cake not following the traditional wedding-cake style, Markle and Prince Harry's cake was so simple, which is definitely not what is expected of a royal couple. But in all honestly, this style of cake is exactly what I expected from the new Duke and Duchess of Sussex. Markle and Prince Harry are a modern couple, and the stunning simplicity of their cake exactly reflects who these two are as a couple.
The Kensington Palace Twitter (along with the images of the cake) described the cake in greater detail, which was said to include, "A filling made from Amalfi lemon curd and elderflower buttercream ties all the elements together."
The baking of the cake began on May 17. Kensington Palace tweeted out updates on the construction of the cake as it slowly came together for Prince Harry and Markle's big day.
"200 Amalfi lemons, 500 organic eggs from Suffolk, 20 kgs of butter, 20 kgs of flour, 20 kgs of sugar, 10 bottles of Sandringham Elderflower Cordial," Kensington Palace tweeted, along sharing a photo of the pastry team in action on May 17. "The baking of the #RoyalWedding cake is under way!"
While that description may sound super extravagant (200 Amalfi lemons?!), when paired with the images of the cake on the actual day of the wedding, I wouldn't have guessed that this cake is as fancy as the Palace had described.
But the cake's design and style is perfectly suited for this particular royal couple. Markle and Prince Harry ooze a sort of laid-back elegance that's not so easily achieved. Yet that simple elegance comes so naturally to this couple, and that style is totally reflected in their wedding cake. It's honestly the same exact look that I'd go for if I were planning my own wedding reception. And I think that it's a style of cake that a lot of people would want as well.
It's just one other reason why Markle and Prince Harry are my favorite royal couple ever. They're so incredibly relatable, and their wedding cake is just one way that their relatable nature shines through.