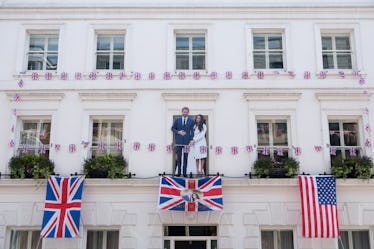 This Tweet About Harry & Meghan's Royal Wedding Cake Recipe Is So, So Tasty
Matt Cardy/Getty Images Entertainment/Getty Images
The British royal wedding of Prince Harry and Meghan Markle is only one day away, and if you already couldn't stand the wait, the palace just made it that much harder. Kensington Palace gave the world a massive teaser before the big day with this tweet about Harry & Meghan's royal wedding cake, and if it tastes as good as it sounds, the guests will be in for a treat. The royal wedding will take place at St. George's Chapel at Windsor Castle on Saturday, May 19.
"200 Amalfi lemons, 500 organic eggs from Suffolk, 20 kgs of butter, 20 kgs of flour, 20 kgs of sugar, 10 bottles of Sandringham Elderflower Cordial," tweeted Kensington Palace on Thursday, May 17, sharing a photo of the pastry team in action. "The baking of the #RoyalWedding cake is under way!"
The baker chosen to carry out the mammoth task is Claire Ptak, owner of the London bakery Violet Cakes. "We've been so lucky to work here at the Buckingham Palace to bake the cakes and to ice the cakes," Ptak says in a video posted the palace.
Breaking with centuries of British wedding tradition, Harry and Meghan opted for a lemon elderflower cake to "incorporate the bright flavors of spring," per a Kensington Palace statement. The buttercream-frosted beauty will apparently be adorned with no shortage of fresh flowers.
"The cake is made up of lemon sponge," explains Ptak in the video. "It has an elderflower syrup drizzle, it has an Amalfi lemon curd, and then it has a Swiss meringue buttercream with elderflower." Ptak adds that the flower adornment and assembly of the tiers of the cake will happen at the Windsor Castle on Saturday morning. (Any Great British Baking Show fans out there will join me in imagining what Paul and Mary's full-throated commentary might entail on the icing technique.)
The world needed a sweet pick-me-up after learning that Markle's father, due to a heart surgery this week, would not be attending the wedding. Instead, Kensington Palace reported that her future father-in-law, Prince Charles, would do the honors of walking her down the aisle.
The cake, based on the photos and videos from the palace alone, looks like it will rank up there among some of the most extravagant of celeb wedding pastries. (Those of you hoping you can land your hands on a piece of the royal cake itself might have to start saving up now.)
Apparently, the sheer quantity of Amalfi lemons was enough to prompt commentary from users on Twitter.
But as far as over-the-top wedding cakes go, Harry and Meghan's already have some serious competition from other world leaders. Donald and Melania Trump's wedding cake, made of Grand Marnier, consisting of seven tiers, came in at five feet in diameter and weighing 200 pounds. But this is hardly as impressive by British standards. Traditionally, the royal wedding cakes have been architectural and culinary feats, with extravagant decoration and sculptural elements.
Consider Elizabeth and Philip's 1947 wedding, which, according to The New Yorker, featured a four-tiered cake clocking in at 500 pounds. Queen Victoria's in 1840? Apparently that bad boy was described as "a great beast" with a 10-foot circumference. So the 2018 royal wedding cake has some big shoes to fill to live up to its predecessors.
If you're feeling inspired to do some royal-wedding celebratory baking yourself, there are dozens of recipes out there to make your own replica of the real thing. (The BBC has shared one.) Or, if you're more of a savory connoisseur, you can always opt for making your own version out of — wait for it — chips and dip. (Think snacks table at the Super Bowl party, but way classier because it's in the shape of a multi-tiered cake.)