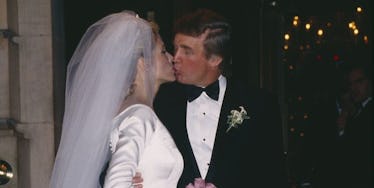 This Is What Every Single One Of Donald Trump's Weddings Cost And Looked Like
REX/Shutterstock
It's no secret that President Donald Trump won't hesitate to spend top dollar to maintain his lifestyle. And for Trump's weddings over the years, he certainly didn't hold back from shelling out hundreds of thousands of dollars.
For a man whose New York apartment is literally covered in gold, you'd expect nothing less.
A quick warning before diving in: For anyone who's felt the stress of tens of thousands of dollars of student loans, the amount of money spent on just one of these dresses will make you cry. Pinterest users with a fully-stocked wedding board will be green with envy. And people who love elaborate baked goods? Yep, you're in for a treat, too.
Wedding 1: Ivana Trump
Trump's first wife, Ivana Zelníčková, married him in 1977. Oddly, it's pretty hard to track down any photo documentation of the wedding.
The couple was reportedly married after settling a prenup that allowed Ivana to keep her jewels. Newsweek quotes Trump as saying later,
I would never buy Ivana any decent jewels or pictures. Why give her negotiable assets?
The event, in fact, was fairly private -- few details are known about Trump and Ivana's wedding, except that it took place at the Marble Collegiate Church in New York and was attended by then-New York Mayor Abraham Beame. After reading dozens of pages about the couple's marriage, I found next to no details on the ceremony itself.
The marriage itself, however, was well-known. Ivana became her husband's business partner, managing the Plaza Hotel for "$1 and all the dresses she can buy."
The couple had three children, Donald Jr., Eric, and Ivanka, before entering into a messy divorce process in 1990 following his widely publicized affair with another woman (more on that next!).
Wedding 2: Marla Maples
The December 1993 wedding took place in the Plaza Hotel's Grand Ballroom in New York City -- conveniently, one that Trump owned. With about 1,100 invitees, the big day was surrounded by fanfare and buzz, as Trump and Maples' relationship was controversial thanks to their extramarital affair during his marriage to Ivana.
By the time Trump and Maples walked down the aisle, they'd already had what would be their only child together: Tiffany Ariana.
The wedding itself was glitzy, with Maples wearing a Carolina Herrera dress and a tiara worth $2 million.
The Maples/Trump wedding was apparently a hastily planned affair, as written in a New York Times article in 1993, but one compared to Princess Diana and Prince Charles' wedding. Celebrities such as Rosie O'Donnell to O.J. Simpson attended.
This second marriage lasted until 1999.
The Washington Post then reported on the Trump/Maples wedding, "there were hundreds of cameras, thousands of white orchids and one tiara with 325 diamonds worth $2 million. The tab for the evening, including about $60,000 worth of caviar, looked to be about $1 million."
Wedding 3: Melania Trump
Trump's 2005 wedding to Melania Knauss took place in Trump's Mar-a-Lago resort in Palm Beach, Florida, and featured a jaw-dropping guest list.
According to Forbes, Melania's gown was designed by Christian Dior, with a $100,000 price tag. That's actually a fair price, given that the wedding gown's crystal beadwork reportedly took 500 hours of work to complete, leaving the final product weighing 60 pounds, according to Vogue.
Some 10,000 flowers adorned the ballroom, and the reception featured one of the most expensive wedding cakes in modern times, second only to that of Princess Diana and Prince Charles, per The Daily Meal. The Grand Marnier chiffon cake was reportedly 200 pounds, seven tiers and five feet in diameter, and took the pastry chef two months to make.
If this makes you sad, don't even bother looking at the 25-carat, $3 million diamond ring Trump gave Melania for their 10th anniversary in 2014.