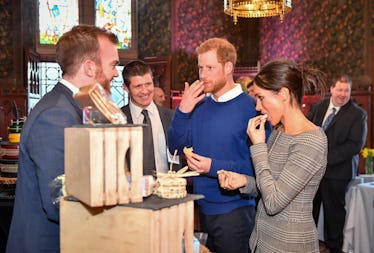 Here's How To Get Your Hands On A Piece Of Meghan & Harry's Royal Wedding Cake
WPA Pool/Getty Images Entertainment/Getty Images
With the royal wedding swiftly approaching, fans are getting restless. They're asking all kinds of questions. Obvious questions — like what is Meghan going to wear? How can I watch the wedding? And can I come? — are all at the forefront of everyone's minds. One thing die-hards are wondering is the kind of food they're going to serve, and exactly how to get a piece of the royal wedding cake. I know it sounds silly and impossible, but that's the magic of royalty! Anything is possible!
In doing a deep-dive into royal weddings, I've learned a ton. The main theme that continuously seeps through is "tradition, tradition, tradition." Traditionally speaking, royal wedding cakes are usually of the fruitcake variety, which is different than the yellow sponge or red velvet types we see here in the states. This also means they last longer, making it feasibly possible to enjoy well after the actual wedding. But, if you're wondering how you can get your hands on a slice, the answer is it's complicated.
Duh.
Here's the deal: It's not totally unheard of for folks who didn't make the cut to attend the wedding to still have the opportunity to taste the royal dessert. In fact, according to Magpie Wedding, royal cake slices of the past have literally been sent in the mail. Apparently, fruitcakes have a longer shelf life and can last for several weeks before going stale, which makes them easier to send in the post. (I know, stick with me.) According to Magpie, a slice of cake might be sent as a "token" to people who were not able to make the event or "not quite important enough" to get an official invite.
Technically speaking, I'm "not quite important enough" to get a seat at the wedding, which makes me a great candidate to get a slice of cake in my mailbox.
It would look something like this.
Guys, here's the cold hard truth. Prince Harry and Meghan Markle opted out of the fruitcake tradition, and I just don't know how well their cake is going to ship. It's like they didn't even consider me when making their flavor decision or something.
Kensington Palace announced Harry and Markle went with a lemon elderflower sponge covered in buttercream. The Palace tweeted, "Prince Harry and Ms. Meghan Markle have chosen pastry chef Claire Ptak, owner of the London-based bakery @violetcakes." The next announcement explained, "Prince Harry and Ms. Markle have asked Claire to create a lemon elderflower cake that will incorporate the bright flavors of spring. It will be covered with buttercream and decorated with fresh flowers."
Based on Violet Cakes' Instagram account, it looks like fans will definitely want in on this masterpiece.
Look at this gorgeous creation.
And this decadent masterpiece.
Or whatever the hell this is. I don't even know what I'm looking at, but I know that I want it.
Violet Cakes made the announcement about Claire by posting a sweet picture of the baker on the account. The caption said:
Kinda excited to announce this one!! Violet has been chosen to make the wedding cake for Prince Harry and Meghan Markle. @kensingtonroyal They both share so many of the same values regarding food provenance, sustainability, seasonality and of course, flavour! Xxx [photo by] press association
Ok, so the question remains: Who do I give my mailing address to in order to get a slice of this gem? I can make sure I'm home to sign for it if that's a thing.
Check out the entire Gen Why series and other videos on Facebook and the Bustle app across Apple TV, Roku, and Amazon Fire TV.