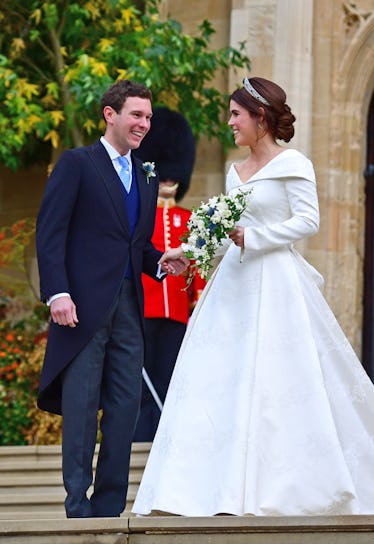 Princess Eugenie & Jack Brooksbank's Wedding Reception Featured Margaritas & A Pizza Truck
WPA Pool/Getty Images Entertainment/Getty Images
ICYMI, Princess Eugenie of York wed longtime boyfriend Jack Brooksbank on Friday, Oct. 12. It was the second royal wedding to take place at St. George's Chapel at Windsor Castle in 2018. The first, of course, was the highly anticipated nuptials of Prince Harry, Duke of Sussex, and Meghan Markle, Duchess of Sussex, back on May 19. Eugenie and Brooksbank's wedding day had a few similarities to Meghan and Harry's big day, but they opted for a different location for their nighttime reception. TBH, the details of Princess Eugenie and Jack Brooksbank's wedding reception make it sound like the newlyweds threw quite the party.
The newest royal newlyweds followed in Meghan and Harry's footsteps with the wedding location, a carriage ride around the Windsor grounds following the "I do's," and an afternoon champagne reception hosted by Eugenie's grandmother, Queen Elizabeth. But Eugenie and Jack took their nighttime shindig to Windsor Great Park's Royal Lodge, per Entertainment Tonight. Meghan and Harry held their private reception at the Frogmore House, but Eugenie kept it closer to home for her and Brooksbank's party, since the Great Park's Royal Lodge is the residence of Eugenie's father, Prince Andrew, Duke of York.
To set the fun scene, the reception was carnival-themed (as seen from German actress Cleo von Adelsheim's colorful Instagram post from the night), with the entire place looking like an actual fairground.
As for the eats and drinks, per People, a pizza truck provided the guests with some comfort food goodness, and margaritas made with Casamigos tequila (Brooksbank is a brand manager for the spirit) were the perfect way to quench the wedding-goers' royal thirst.
Weddings are all about the ambiance, though, aren't they? So, how did Eugenie and Brooksbank set the scene for their guests? Well, they did it with a musical performance from none other than Robbie Williams. He treated the crowd to a set that included his hit "Angels" as well as "classic pop" hits that the crowd sang along with as he performed what I can only assume were amazing renditions of each song.
Robbie Williams and his wife's attendance at the reception also makes total sense, because it sounds like they're very tight the with the newlywed couple. I mean, his daughter Theodora, 6, also served as a bridesmaid earlier in the day.
Other famous faces in attendance included some of Eugenie's fellow royal cousins and their wives, aka Prince Harry and Meghan, and Prince William, Duke of Cambridge, and Kate Middleton, Duchess of Cambridge.
I don't know about you, but a party that features pizza, margs', and a live performance from a British superstar sounds like a pretty fun shindig to me. If you're also experiencing a bit of FOMO, then you might want to look into the reported gift bags from Eugenie and Brooksbank's wedding that are apparently for sale on eBay.
Yep, some lucky Brits who snagged a commemorative gift bag on Friday, Oct. 12 have already tried to monetize their good fortune. With prices ranging from £100 pounds to £1,000 (about $131.54 to $1,315 in American currency), you will have to shell out a pretty penny to get your hands on the maroon-colored bag containing goodies like shortbread and canned water (um... OK?).
If you'd rather spend less than that, you can recreate the tastiest portion of the reception by picking up a bottle of tequila (maybe Casamigos?) and ordering in some pizza for dinner. Honestly, that sounds like my version of a royal reenactment. To really make your night regal AF, find your best discount-store tiara, and you'll be set. Hey, when your royal wedding invite never arrives, you have to make do, right?