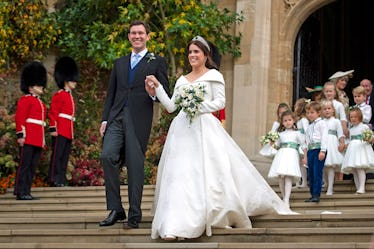 You Can Bid On This Princess Eugenie Wedding Gift Bag To Own A "Piece Of Royal History"
WPA Pool/Getty Images Entertainment/Getty Images
Princess Eugenie of York's fairytale nuptials to Jack Brooksbank might have come and gone on Friday, Oct. 12, but you can continue to relive all the royal wedding magic with some one-of-a-kind mementos. That is, if you're willing to shell out some serious cheddar for them, because guests who attended the big day are reportedly selling their goody bags online. Here's where to buy this Princess Eugenie wedding gift bag so that you can feel like a royal, and, as one listing puts it, "own a piece of British history." Elite Daily reached out to the Duke of York press office to confirm that these are, in fact, authentic gift bags from the royal nuptials, but didn't hear back by the time of publication.
Just hours after the daughter of Prince Andrew, Duke of York, and Sarah Ferguson, Duchess of York, said her "I Do's", wedding guests were reportedly already scouting out potential buyers for commemorative gift bags they received at the ceremony. Per the BBC, the bags were gifted to all of the 1,200 regular British citizens who were chosen by vote to score an invite to the grounds of Windsor Castle, and about a dozen of them were up for auction on eBay as of Saturday, Oct. 13. Considering that my invitation to the highly-anticipated event somehow got lost in the mail and I didn't get a chance to become BFFs with Prince Harry and Meghan Markle, this definitely sounds like the next best thing. After all, what evokes everlasting love and wedding vibes quite like the goody bags you get at the end of the reception?
However, one look at eBay, and I realized that other people must be thinking the same thing, because these gift bags are expensive. While asking prices began with ranges from £100 pounds to £1,000 (about $131.54 to $1,315 in American currency) starting early Saturday morning, many of the less spendy listings have been bid on and snatched up as the day has gone on.
The maroon-colored bag itself holds some pretty modest contents. There's a can of water, a chocolate coin, and a tube of shortbread, in addition to a fridge magnet and a poncho. All I'm saying is that if I'm paying over $1,300 for a can of regular, good ol' H2O, it better hydrate me for eternity. The most covetable items are probably the burgundy tote (which is inscribed with the date of Princess Eugenie's wedding) as well as an order of service. Still, it is a lot to pay, even though one eBay listing apparently touts the gift bag as the "chance to buy your very own piece of British royal history." You know, if that makes you feel any better about spending over 1,000 greenbacks for a biodegradable poncho and some snacks.
However, if Meghan Markle and Prince Harry's nuptials are anything to go by, there are definitely buyers who are willing to toss cost to the wind for the ultimate keepsake from this year's royal weddings. For the May ceremony, over 2,640 members of the public were invited and received similar gift bags (a bottle of water, a chocolate coin, a magnet, a badge, and a coupon to the Windsor Castle gift shop were reportedly included). According to the BBC, bidding for some of these bags easily exceeded £1,000, which is completely ludicrous IMHO. If you absolutely must get your hands on one of these commemorative bags, I'd keep an eye on eBay in the coming days and see if you can swoop in on an auction when some of the hoopla has died down.