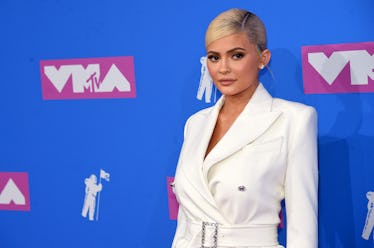 This Photo Of Kylie Jenner & Stormi Is The Cutest Mother-Daughter Bonding Moment
Jamie McCarthy/Getty Images Entertainment/Getty Images
It looks like Kylie Jenner might have had a change of heart when it comes to her stance on posting photos of baby Stormi, and I for one am so happy about it. ICYMI, the youngest KarJenner's bundle of joy is seriously adorable, so it's not surprising that the proud mom wants to bless the world with a sliver of that cuteness. Case in point: this photo of Kylie Jenner and Baby Stormi, which shows the inseparable duo enjoying a sweet mother-daughter moment and soaking in the last days of summer together.
In an Instagram post shared on Saturday, Sept. 1, Kylie Jenner had a mommy n' me day with her mini-me poolside. From the looks of things, the mother-daughter duo is having the chillest Labor Day weekend and refusing to accept the fact that summer is almost over. The photo, which the makeup entrepreneur captioned with a yellow heart and sun emoji, shows the new mom lounging on a sun bed in a neon yellow bikini with her arms cradling baby Stormi. While Kylie is looking pretty good (those abs, though!), courtesy of her workouts with sisters Khloé and Kim, her bundle of joy managed to steal the show with a cuter-than-cute accessory that has me itching to buy baby hats for no reason at all. TBH, I don't think I've seen anything more adorable than Stormi's pint-sized straw hat, and it totally makes up for the fact that her chubby cheeks are somewhat masked in this photo.
In June, the Keeping Up with the Kardashians star had me a little worried when she suddenly deleted almost all photos of her daughter from her Instagram without notice, explaining to fans, "I'm not sharing photos of my girl right now." Once I knew why the pics has vanished — because of "nasty" social media comments, per People — I totally respected her for her decision to keep such a special part of her life private. I think it's sometimes hard to remember when it comes to celebrities, but it's Kylie's life and no one is entitled to seeing photos of her baby.
Still, I was pretty happy when she and boyfriend Travis Scott eased up on their no-face Instagram rule in August, first on Aug. 9 and then again on Aug. 22.
It's safe to say that motherhood agrees with Jenner, and she's definitely been keeping her focus on her little family in light of recent attacks from Nicki Minaj and ex Tyga.
Minaj, who's been pretty salty about the fact that Scott's ASTROWORLD album beat out her own Queen album to take the number one spot on the Billboard 200, was suggested that Kylie Jenner used her fame and the cuteness of baby Stormi to boost album sales. She then took things to the next level by inviting Jenner's ex Tyga on her Queen Radio Show and asking him if he missed Kylie. While the "Rack City" rapper insisted that he "was good," he did try to take credit for the success of her billion-dollar lip kit empire, and unsurprisingly, fans were left scratching their heads and wondering what alternate universe he lives in.
Jenner has yet to respond, and from the looks of it, she's too busy living her best life with baby Stormi to care or start any beef. TBH, I'm so here for her silence on the drama if it means that more adorable Stormi pics are coming.