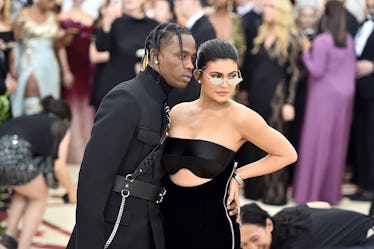 These New Photos Of Kylie Jenner & Travis Scott Playing With Stormi Are Too Cute
Theo Wargo/Getty Images Entertainment/Getty Images
Kylie Jenner and Travis Scott are sharing photos of their daughter Stormi Webster again. And she is beyond adorable! The proud new parents took to Instagram on Wednesday, Aug. 22, to share photos of themselves with their baby girl. The new photos of Kylie Jenner and Travis Scott playing with Stormi are some of the first the couple has shared since June 2018.
Jenner shared her photo with Stormi first, captioning it with, "you make all my mornings ☁️"
In the photo, Jenner is clad in white and sitting on a chair on a rooftop in what looks like New York City. Stormi is sitting on Jenner's lap and laughing as her mom tries to give her a smooch.
Scott shared his photos on Instagram shortly after. One photo shows Scott lifting Stormi up and kissing her belly. In the other photo, Stormi rests on his chest as he gives her a cuddle.
"Big mood!" Scott captioned the photos. "Teach my stormi to love. I'll forever protect that smile."
So sweet! Scott and Jenner have only recently started sharing photos of Stormi after just about two months of mostly keeping her away from the cameras. Jenner shared two photos of Stormi on Instagram back on Aug. 9. And that was the first glimpse fans got of Stormi's face in quite some time.
In any case, here's the photo Jenner shared of herself and Stormi on Aug. 22:
And here's one of the photos Scott shared:
As you can see, both photos were taken in the same location. It appears the family of three was relaxing at a rooftop lounge where they felt compelled to have a photo shoot. In the background, you can see grey skies and tall buildings. Given that Scott and Jenner were just at the MTV VMAs in NYC, it's likely they're hanging around New York City for a while.
Back in early June, Jenner revealed that she would no longer be sharing pics of baby Stormi for the time being.
At the time, a source close to Jenner told People magazine that Jenner was feeling protective of Stormi and didn't want fans to see her baby's face:
Kylie felt so protective of her baby when she was pregnant. This is why she didn't share any bump pictures while she was pregnant. After Stormi was born, Kylie was the proudest mom.
After giving birth in February, though, Jenner shared as many photos as possible only to find that fans didn't always have positive feedback. People's source revealed that Jenner wasn't happy with how toxic the situation was getting:
She couldn't wait to show off Stormi to her fans. She posted pictures, because she was so excited to be a mom. Unfortunately, social media is a crazy place … People have been making nasty comments … Kylie is shocked and doesn't want her daughter's pictures to be a part of something negative. She might reconsider in the future, but for now, she won't post any more photos of Stormi's face.
Now that Jenner and Scott are back to sharing photos of Stormi, it seems like they feel a bit freer to share photos of their family. So, that's awesome to see!