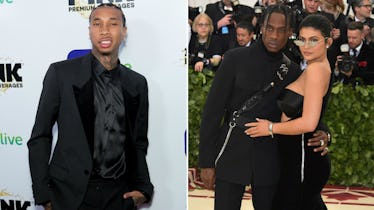 Tyga Just Revealed How He Feels About Travis Scott Dating His Ex Kylie Jenner
Greg Doherty/Neilson Barnard/Getty Images Entertainment/Getty Images
Being civil with your ex can sometimes be a tough pill to swallow. Being civil with your ex while both being celebrities can be even tougher, especially when that ex has a new SO and, oh yeah, a brand-spankin' new baby, too. That's exactly the scenario that rapper Tyga is in with his ex, Keeping Up With The Kardashians star and beauty mogul Kylie Jenner, who shares a daughter named Stormi with boyfriend, Travis Scott. But instead of being super salty about the situation, Tyga's comments about Kylie Jenner and Travis Scott prove that he's pretty chill with everything, and there's no bad blood between any of them.
The "Rack City" rapper went on Nicki Minaj's Queen Radio show on Apple Music's Beats 1 station and spoke with Minaj about his past relationship with Jenner. Some fans thought that it was just a tad petty of Minaj to bring Tyga onto the show, after she dragged Travis Scott when his album, ASTROWORLD made it to number one on the Billboard Top 200 chart, beating out her own album, Queen.
So naturally, Minaj brings Tyga's ex and her new man into the conversation (???) and Tyga reveals that he's totally fine with the way the relationship turned out, breaking up for good back in 2017.
"I'm not a bitter person...if we break up, we break up. We had a good time and kept moving, and we went our separate ways and we're both doing good," Tyga said.
When asked if he missed Jenner, though, Tyga replied pretty bluntly. "Nah, I'm good. I'm good love, enjoy," he said, followed by a laugh.
While it's super chill of Tyga to fill us in on the status of where things are at with him and Jenner, I find it *slightly* odd that Nicki Minaj attempted to drag Tyga into her feud — or, at the very least, that's what it seemed like to me.
Fans on Twitter agreed, wondering why the Queen rapper would have Tyga on just to spill some tea:
Yikes. But hey, at least Tyga responded and confirmed that there's no ~drama~ going on between the three of them. Sorry, Nicki, it looks like Tyga can't be a pawn in this chess game.
Even though the 28-year-old rapper didn't spill any gossip on his past relationship with Jenner, he did have a few things to say about her beauty line, Kylie Cosmetics, claiming that he had a part in the creation of her Lip Kits.
He said, "She always had a platform and she was always destined to be what she was going to be regardless, but, when I stepped in, there was a lot of codes being taught. It was like, you could do this, you should start this, you should start doing your hair like this."
He continued:
I had a lot to do with all that, which I don't need credit for. I don't need to go online and tell people I did this and I'm the one helping her coming up with these colors and names on her...lip line. It was a lot of stuff.
Huh. Well, that's some new and interesting information we have. Not sure if I'm going to go ahead and take his word for it or not, though.
So, while it's obvious that there's no real beef between Tyga and the Jenner-Scott clan, he might be harboring a little resentment over some lipsticks. Who knew?