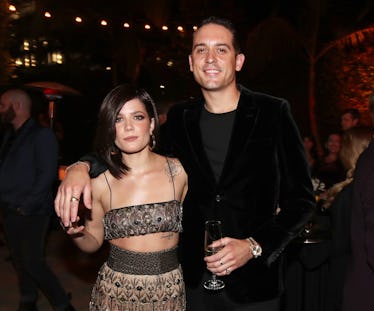 G-Eazy Just Got A New Arm Tattoo That Sure Looks Like Halsey, So Fans Are Freaking Out
Christopher Polk/Getty Images Entertainment/Getty Images
Just when you start to accept that G-Eazy and Halsey are officially over, they go and suck you right back in. Rapper G-Eazy has fans raising their eyebrows after sharing a picture on Instagram from a recent tattoo session with a potentially telling sketch sitting next to him. Basically, the tattoo image looks suspiciously a lot like his ex, Halsey. Like, a lot, a lot. This photo of G-Eazy's tattoo has fans wondering if he's not-so-subtly professing his undying love for her or if they're even (GASP!) getting back together.
G-Eazy shared the photo on Sunday, Aug. 14 with no caption. In the picture, he's casually looking down at his tattoo artist going to town on his right bicep. You can't really tell what the picture is, but next to him on a table is a drawing of a woman kneeling. Clear as day. She has short, dark hair and delicate features, much like his ex, Halsey. If you zoom in, it definitely could be a drawing of her. Fans went wild speculating in the comments. Some think it's definitely Halsey and some think it's a miscellaneous pin-up girl.
My theory is this: whether it's Halsey or not, he surely must know fans are going to think it is. So either way, he's definitely making a statement, right?
Here's the Instagram photo:
And here's a close up of the sketch and tat:
Hard to say, but it didn't stop people from weighing in with their theories in the comments. Many people simply wrote, "HALSEY" while others waffled back and forth. It honestly could just be wishful thinking...
It's now been just over a month since Halsey announced their breakup, but there has been plenty of "Will they? Won't they?" action since then. She initially posted about their split on July 3 when she shared this message on Instagram:
I normally keep this kind of thing private but provided our public nature I feel the need to inform my fans. G-Eazy and I are taking some time apart. I'm eager to continue the upcoming passage of time dedicating myself to my art and my career, and the duration of my tour. I wish him the best. Thanks for respecting our privacy at this time.
Since then, fans have been sent loads of mixed signals after Halsey cried on stage, defended G-Eazy over rumors he was dating Demi Lovato, and referenced sleeping with an ex. From here, it definitely looks like no one has really moved on yet.
At the 2018 Billboard Music Awards, just a little over a month before their split, Halsey told interviewers G-Eazy had been relentless in courting her. At the time, she told E! News, "He was just really persistent. He really wanted to hang out and really wanted me to like him a lot. It took me a while to be like, 'Fine. Okay, I like you back."
Maybe this tattoo is another heroic effort to win back her affection? We're standing by for confirmation, G-Eazy.
Check out the entire Gen Why series and other videos on Facebook and the Bustle app across Apple TV, Roku, and Amazon Fire TV.