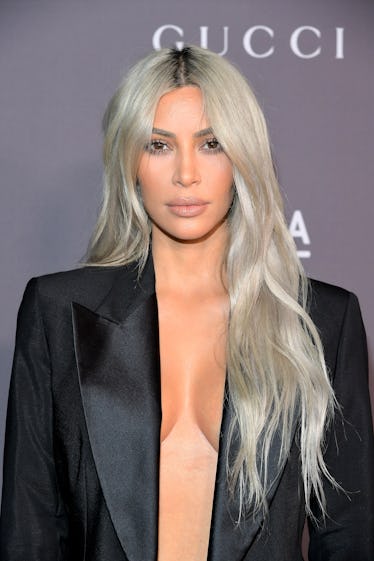 This One Winter Hair Color Trend Is Absolutely Blowing Up On Pinterest
Charley Gallay/Getty Images Entertainment/Getty Images
While there are certainly many hues typically considered seasonal hair colors, sometimes the hair colors trending for certain seasons can really surprise you. Traditionally, when you think of winter hair colors, you probably think of rich shades like dark browns and deep reds. Well, this winter, it looks like people are really lightening things up a bit. This season, the searches for platinum blonde hair on Pinterest are up 216 percent, according to Byrdie.
When you think of blonde hair, you likely think of it as a warm summer hair color, so it may come as a surprise that the search for blonde hair is trending right now on Pinterest just as the colder months are approaching. However, the ashy, icy shade of blonde that is trending this season is considered a cooler-toned hue containing zero trace of yellow or brassy tones. The spectrum of ashy platinum blonde can range from a white-gray shade of blonde to a bright platinum and anywhere in between. But that's not all. Pinterest members are specifically searching for ashy blonde hair with dark roots. That's right, root shadowing continues to be one of the major trending hair color techniques this season.
If you're not familiar with root shadowing, it's a coloring technique that makes hair color appear more natural by embracing darker roots, but less intense than an ombre style. Long gone are the days that brunettes who color their hair blonde worry about trying to cover up grown-in darker roots. Instead, the root shadow technique blends the darker root with the blonde shaft of the hair to make it appear more natural for a subtle, lived-in color.
Ashley Benson's lived-in bronde roots with platinum blonde ends perfectly embody both the root shadowing and toasted coconut hair trends:
If you're looking to channel this winter's ash blonde hair with dark roots trend, just remember to ask your colorist for a cool-toned blonde without a hint of gold and shadow roots. Keep in mind, however, that, if you are transitioning your hair from dark to light, lifting the color can have permanent effects on the integrity of your hair, so you will definitely want to visit a professional colorist, rather than attempting the dye job at home.
Thinking of embracing this winter's trending hair color? There are quite a few celebs who have tried out the icy look to see if (ash) blondes really do have more fun. Read on for some major inspiration from celebrities who have tried out one of the trendiest hair colors of this winter.
Emilia Clarke channeled her inner Khaleesi with a platinum blonde bob:
Jasmine Sanders' bronde hair is the prettiest, yet subtlest take on this winter hair color trend:
Kim Kardashian West is no stranger to transitioning her hair from dark brown to platinum blonde:
Rita Ora has tried out all sorts of variations of blonde, but this icy, ash blonde look is right on trend for this season:
Are you in need of haircut inspiration to go along with your new color? Check out the biggest and buzziest short haircut trends that you will probably see everywhere this season.