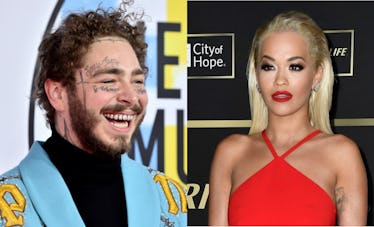 Rita Ora's Accurate AF Post Malone Halloween Costume Is Winning The Holiday On Twitter
Frazer Harrison/Getty Images Entertainment/Getty Images
Halloween is still four days away but it seems like the internet has already found its Halloween queen. Rita Ora's Post Malone Halloween costume is taking Twitter by storm. And it's for a really good reason — the singer pulled off Post Malone's look with ease and accuracy. Per ET Online, The "Girls" singer debuted her costume on Friday, Oct. 26, during the KISS Haunted House party at The SSE Arena in London, England, where she partied and performed in full Post Malone garb, blowing away all her fans.
The singer tweeted pictures of her costume with the caption,
ma get Halloween started for you the right way... postttyyyyyy I LOVE YOU BRO @PostMalone ...ratatatatataata wassssss gooood!! And this is also a BIG thank you to getting me to 14 million on instagram!
She followed up with a video of her in her Post Malone costume and a caption that said, "What the f*ck is good HALLOWEEN 2018 @PostMalone i LOVE you bro. Surprised Wembley as you tonight at my show my fans didn't even recognise me LOL."
In a new Highlight on her Instagram page called "Rita Malone," Instagram users can catch a behind-the-scenes glimpse at the singer's outfit, musical performance in full Post Malone costume, and even a short skit where she imitates Post Malone's voice and speaking style. In an Instagram story on Saturday, Oct. 27, the singer posted a picture of faded fake tattoos on her hand with the text "my Post Malone aftermath."
Twitter users immediately noted the uncanny resemblance between Post Malone and Rita Ora in Post Malone drag. I mean, just take a look at her:
Twitter users did not hold back their admiration, many fawning over Rita Malone.
What makes Rita Ora's costume so successful is the details. You've got the obvious, distinctly Post Malone features: the "Always Tired" and "Stay Away" tattoos under and above his eyes, the sword tat on the cheek, the occasional grills, and the brown scraggly hair and beard. But Rita Ora takes it above and beyond by mimicking Post Malone's bracelets and rings, messy clothing style, tattoo sleeves, facial expressions, and general demeanor to make for a truly successful and accurate costume. To top it all off, the singer carried around a fake cigarette and Bud Light bottle — a true homage to the rapper's grimy aesthetic and potentially this tweet from 2016 where he calls smoking cigarettes "classy."
Though everyone is still eagerly waiting for Post Malone's response to his look-alike, Rita Ora's costume is sure to go down in history as one of the best, most accurate 2018 Halloween looks. Joining her will be Harry Styles glammed up as Elton John, Olivia Munn as Peik Lin from Crazy Rich Asians, Gwen Stefani as Sally from A Nightmare Before Christmas, and True Thompson as a pumpkin. With a pre-Halloween lineup this good, celebs are going to have to step it up if they want Rita Ora's Halloween queen 2018 crown.