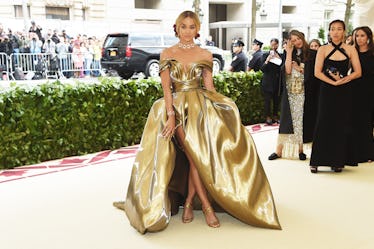 Jasmine Sanders' Met Gala Hair Is Rapunzel Meets Roses & You're Going To Dream About It
Jamie McCarthy/Getty Images Entertainment/Getty Images
This year's Met Gala theme, "Heavenly Bodies: Fashion and the Catholic Imagination," is liable to go either way — but so far, it's off to a great start. As one of the first to come down the carpet, Jasmine Sanders' 2018 Met Gala look not only nails the theme, but it's also serving up major princess vibes in all the right ways. Just wait until you hear which designer she's wearing and see what the back of her hair looks like.
I'm notorious for wearing affordable clothes and pairing them with more expensive designer pieces; I've even admitted to being a full-blown adult who is addicted to shopping at Forever 21. I think if I was rich or had some major stylists behind my look, I could still hit a major red carpet in a dress that costs under $50 and make it work. I'm not rich and I don't have a team of people behind me. However, if I did, they might try to talk me out of it. Or would they?
As it turns out, an affordable fast-fashion designer (one that can be found in your local mall) just made an appearance on the Met Gala carpet. I'm of course talking about H&M. Dressing Olivia Munn, Lili Reinhart, Alex Wek, Kiersey Clemons, and Jasmine Sanders in custom creations, H&M is bringing my broke-girl's fashion dreams to life.
Though I'm positive we could never see this custom gold lamé gown sitting on a rack at our local H&M store (nor do I think it's something I could personally afford), I'm rooting for the girls that opted for a more attainable designer name. Jasmine Sanders, aka Golden Barbie, looks completely stunning in her voluminous off-the shoulder gown with a thigh-high slit that shows off her long legs. "Although I tend to go for more comfortable looks," Sanders tells Refinery 29, "this night is all about the glam and the fashion, and it's really a time to shine!"
And the real-life Barbie-slash-princess realness doesn't stop there. I thought Jasmine looked incredible when she first stepped onto her first Met-Gala carpet ever, but then she turned around, and I gasped out loud — a good gasp. One that prompted me to grab my chest, tilt my head to the side, and stare in admiration.
Looking like a floral bouquet out of some romantic Roman novel (in a good way), Jasmine Sanders' hair is completely mesmerizing. Parted in the center and pulled back to the nape of her neck, Sanders wears her hair in a loose, waist-length braid. But it's the Met Gala, so it's not just any loose braid, it's decorated with roses throughout, has strands of velvet ribbon and strings of pearls woven in between the plaits and is held in place by a gold metallic rope at the end. I can't.
Between the gold gown worthy of a biblical queen and a head of hair that could make even the most beautiful woodland nymph envious, Jasmine Sanders just crushed her first Met Gala ever, and became my new style muse. Since I'm not so sure I'll ever make it to the annual ball, I have to find new ways to channel my inspiration, and I know just the place to do it. Coachella might've passed, but there are still some music festivals on the horizon that can stand an update to the cliché flower crown. Rather than wear flowers in the shape of a halo that sits at the top of my head, this is what I'll be going for.
The next time you find yourself dancing in a sea of festival goers, consider copying Jasmine Saunders' floral braid. I know I will.