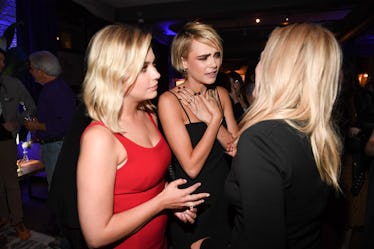 This Update On Ashley Benson & Cara Delevingne's Reported Relationship Is So Sweet
Sonia Recchia/Getty Images Entertainment/Getty Images
So... Ariana Grande and Pete Davidson are broken up and love in the celebrity world is, for the most part, dead. OK, that might have been a little dramatic. There are still plenty of celeb couples out there instilling hope in our hearts that love really may be real, after all. Want some of this hope I speak of? Take this update on Ashley Benson and Cara Delevingne's reported relationship as an example.
Just how strong is their relationship going? Well, a source recently told Us Weekly that Benson, 28, is "very happy" dating Delevingne, 26. "Ashley and Cara are dating. This is the first girl she's ever dated," the source reportedly said to Us Weekly. "This relationship with Cara is the first time she's been in a healthy relationship and she feels as if it's really easy with her."
Their reported fling first started when they started filming their upcoming flick Her Smell together. "They've been hanging out since filming started," the same insider told Us on Aug. 10.
That being said, Us Weekly reports that rumors of the pair being romantically involved didn't start swirling about until people spotted them leaving Kylie Jenner's birthday party together this past August.
And that was just the beginning. Since being spotted at Jenner's birthday bash, Benson fueled the rumors by posting a picture of herself wearing a gold necklace with the letters "C" and "A" on it on Aug. 10.
Sure, it could have been a nod to her California roots (according to IMDB, she was born in Long Beach, California). But it also could have been a "C" for "Cara" and an "A" for "Ashley."
As if that wasn't proof enough enough, Us Weekly reports the two blondes were spotted kissing at a London airport just three days after Benson posted the selfie with the romantic necklace.
The two were also spotted at their first public event together at the Toronto Film Festival last month where body language experts told Elite Daily that their chemistry was less than stellar.
"They're just not showing up as a couple," said Patti Wood, body language expert and author of SNAP: Making the Most of First Impressions, Body Language, and Charisma. "When you're looking at these photos, one of the things that strikes you as a little bit off is that they're not appearing as a couple. The body language isn't showing them up as a couple."
Wood hypothesized that a potential reason for their lack of comfort together in public could've been the fact that this is Benson's first relationship with a woman (that we know of). "She's not comfortable with this yet in public," Wood concluded to Elite Daily last month, after examining the photos of Delevingne and Benson at the Toronto Film Festival. "We don't know what we're doing yet in private but, in public, she doesn't want to communicate this."
Maybe, if what the insider told Us Weekly is true, Benson is slowly but surely going to be more comfortable taking her relationship with Delevingne public. Or maybe she's not! As long as they're happy, I'm cool with it.
Check out the "Best of Elite Daily" stream in the Bustle App for more stories just like this!