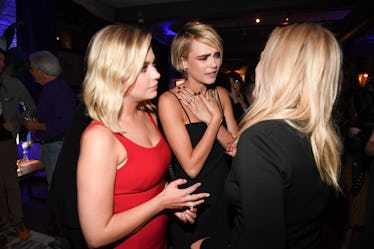 Cara Delevingne & Ashley Benson's Uncomfortable Body Language Reveals So Much
Sonia Recchia/Getty Images Entertainment/Getty Images
Rumors have been swirling left and right about a potential relationship between Ashley Benson and Cara Delevigne ever since the two started working together on their film Her Smell, where they reportedly play — you guessed it — love interests. And, trust me, I could not be any more pumped about that possibility. But, unfortunately, Cara Delevingne and Ashley Benson's Toronto Film Festival body language suggests that, even if they are in a relationship, things aren't necessarily going so great.
First, let me give you some back story. Why do people think they're dating? Well, they've given people plenty of reason to speculate. They were spotted leaving a Lauryn Hill concert together in May, they post pictures together on Instagram, they've been seen kissing at the airport, and, most recently, Benson commented "mine" on a picture Delevigne posted of herself on Instagram.
So, yeah, we've got lots of hints that suggest they're an item. But experts are perplexed by their body language at their recent appearance at the Toronto Film Festival. "Wow, these are interesting pics," says Traci Brown, body language expert and author of Persuasion Point. "I wouldn't think they were a couple unless you told me."
"They're just not showing up as a couple," agrees Patti Wood, body language expert and author of SNAP: Making the Most of First Impressions, Body Language, and Charisma. "When you're looking at these photos, one of the things that strikes you as a little bit off is that they're not appearing as a couple. The body language isn't showing them up as a couple."
What's so off? Let's discuss.