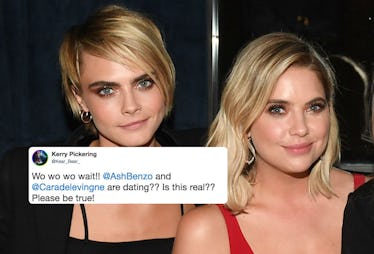 Ashley Benson May Have Confirmed She's Dating Cara Delevingne With A Flirty Comment
Sonia Recchia/Getty Images for RBC
Cara Delevingne and Ashley Benson have been rumored to be dating for a while now, but we haven't gotten any kind of confirmation about the rumors from the women themselves — until now, maybe! Ashley Benson's comment on Cara Delevingne's Instagram might've just given us all of the proof we need that these two are, in fact, a thing. Elite Daily reached out to Benson and Delevingne's teams for comment on their relationship status, but did not hear back by the time of publication.
Delevingne and Benson were at the Toronto International Film Festival (TIFF) this weekend for the premiere of their film Her Smell, which they appear in together alongside Elisabeth Moss and Amber Heard. People on Twitter who have seen the film say Benson and Delevingne are love interests in it, so that could've been what got their reported relationship started (gotta love a good showmance). Outside of their appearances at TIFF this week, the two have been seen leaving a Lauryn Hill concert together, posting photos together on the 'Gram, kissing at airports, and Benson even has a necklace with the initials "C" and "A" on it, and I have a feeling that "A" has nothing to do with Pretty Little Liars.
Now, we have a flirty as hell comment on Delevingne's Instagram posted by Benson herself.
The @CommentsByCelebs account (which is singlehandedly keeping me in the loop about celebrity friendships, what a hero) posted a screenshot of one of Delevingne's photos from TIFF alongside Benson's flirty comments. The first comment Benson dropped said, "Mine," which makes things pretty clear to me, and the second comment said, "I can see your," with three sushi emojis (which is open to interpretation).
So, uh, can we just go ahead and say that Benson and Delevingne definitely don't care if we know they're a thing now? Because it definitely seems like they don't care if we know they're dating now.
Fans of the women are obsessed with the possibility (read: almost fact... come on!) that these two are feeling each other.
I've been shipping this hardcore ever since Benson posted this selfie of her and Delevingne to her Instagram on May 3.
The selfie shows her and Delevingne sitting in a car and is captioned, "After 50 tries...we got a blurry one @caradelevingne 🍒🍒🍒," which is definitely something someone would say when taking pics with their bae. This entire relationship makes me the human personification of the heart eyes emoji.
In an episode of People Now on Aug. 23, Benson was asked to address the rumors about her dating life and she purposefully kept things vague, saying she has "always been private" about her love life. "I think it's the best way," she said. Benson explained that she values her privacy so much because it's a rarity when you're famous. "I mean it's hard, I don't know, you kind of can't get away from that if you're in the public eye," she said. "I just kind of try to keep myself as private as possible." Understandable.
So while she might post flirty comments on Delevingne's Instagram, while they might post pictures together, and while they might be ready to put their reported relationship in the spotlight on the 'gram, it doesn't seem like we're going to be hearing any explicit confirmation or details about their reported relationship from the women themselves anytime soon.