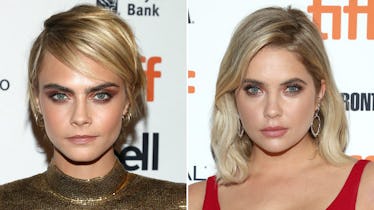 Cara Delevingne & Ashley Benson Went To TIFF, So Prepare For The Photos To Rock You
Jemal Countess/Getty Images Entertainment/Getty Images
If you thought the rumor mill was done swirling around Cara Delevingne and Ashley Benson, think again. The two actresses just stepped out on the Toronto International Film Festival red carpet to promote their film, Her Smell, and they're turning heads like WHOA. Mainly, fans are eating up their amazing looks, but everyone is also keeping their eyes peeled for any behavior that might give more concrete insight into the nature of their mysterious relationship. The photos of Cara Delevingne and Ashley Benson at TIFF are seriously gorgeous and show two women on the same, badass wavelength. Elite Daily previously reached out to both Benson and Delevingne's teams for comment on their relationship status, but did not hear back by the time of publication.
Both Benson and Delevingne have supporting roles in Her Smell, which stars The Handmaid's Tale's Elizabeth Moss. IMBD's explanation of Her Smell's plot states: "A self-destructive punk rocker [Moss] struggles with sobriety while trying to recapture the creative inspiration that led her band to success." The stills and trailer released so far look intense and I'm sort of dying to see what roles Benson and Delevingne have in the seemingly dark story. The teaser doesn't give us that much in terms of storyline, but it definitely sets SOME sort of mood.
However, in real life, all of the women who star in it look really, really happy.
Her Smell premiered at TIFF on Sunday, Sept. 9, calling the amazing cast out to the red carpet. Delevingne stunned in a sheer gold paneled ensemble, short pixie cut, and smokey eyeliner. She also wore some major kickass over-the-knee boots and, ya know, her signature moody attitude. Look at this:
INTENSE, right?
Benson was right behind her bringing just as much glam, but with an added touch of Old Hollywood flare. Benson opted for a formfitting red dress, pointy black pumps, and wore her blonde hair in loose waves.
Behold:
Gorg, gorg, gorg.
Photos from later in the evening showed Benson and Delevingne hanging around with other cast members, though the two remained glued at the hip in group photos. Delevingne also swapped out her midriff-baring mini for a solid black LBD.
The TIFF premiere arrived roughly one month after The Daily Mail photographed Benson and Delevingne arm in arm at Heathrow airport after celebrating Delevingne's birthday with friends. In fact, one photo even showed them kissing (like, on the mouth). Benson was also rocking a tiny letter "c" on her necklace, causing many fans to assume these two really are more than friends. Of course, neither Benson nor Delevingne have confirmed anything, but that hasn't stopped fans from shipping them anyway. After the airport photos were released, many people jumped on Twitter to share their excitement over the potential couple.
In fact, after TIFF, one fan even revealed a huge detail about their characters in the movie. (Spoiler ahead, people!!!)
Check out this nugget of information:
Ya hear, that folks? Fans can look forward to an onscreen kiss! Maybe!
Lord help this fan if that isn't true.