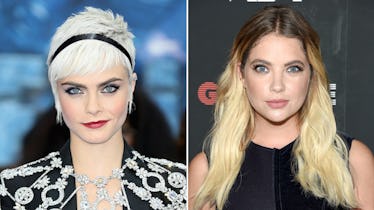 The Photos Of Cara Delevingne Celebrating Her Birthday With Ashley Benson Are Everything
Tim P. Whitby & Jamie McCarthy/Getty Images Entertainment/Getty Images
I love a good new rumored celebrity relationship. Model/actress Cara Delevingne and actress Ashley Benson have been sounding the adorable alarm as they've been spotted out on multiple occasions getting PDA-ey and giving off major more-than-friends vibes, like when they were recently spotted smooching at Heathrow airport. Now, there are photos of Cara Delevingne and Ashley Benson celebrating Delevingne's birthday and they're giving fans more major feels. Delevingne turned 26 years old on Sunday, Aug. 12, and celebrated her big day with friends, mermaids, and Benson. Yes, in that order. Elite Daily reached out to both Benson and Delevingne's teams for comment on their relationship status, but did not hear back by the time of publication.
Delevingne shared pictures from her party on Instagram showing off a few of her heavy-hitter famous friends. For example, she and Benson got down with folks like Margot Robbie, Suki Waterhouse, Zoë Kravitz, and what appears to be a hired professional mermaid. (These things are still in, huh?) The photos included hilarious group shots at a photo booth and a few pics laying poolside with the mer-woman. Delevingne captioned one of the photo sets: "It was my birthday a week ago and I am still giggling with MERmazing memories." The other pictures simply included four heart emojis.
The gathering of ethereal beings looks like one of those fantasy montages a young boy would have in a teen movie. You can catch Benson and Delevingne side-by-side by scrolling to the last image in the second photo set.
The Daily Mail released photos of Delevingne and Benson kissing at Heathrow airport on Aug. 14, just two days after Delevingne's birthday. Both women were dressed down while they waited for their bags, though paparazzi were able to zoom in on Benson's necklace. Dangling from a delicate chain, Benson rocked the letter "C."
And, hell no, I do not think that is a coincidence.
Eventually, Delevingne draped her arm over Benson and brought it in for the real thing. The kiss looked brief but sweet. The other photos display Benson clearly looking at Delevingne through rose-colored glasses. (Ok, they're technically regular sunglasses, but the girl seems like she's swooning hard.)
Around this time, both women posted on Instagram promoting their upcoming film, Her Smell, which will be in included in the Toronto International Film Festival (TIFF) next month. Her Smell stars actress Elizabeth Moss, though both Delevingne and Benson have supporting roles. Benson shared she is "beyond excited" for TIFF and Delevingne posted she can't wait for the public to see the film.
While fans wait for the movie, they can definitely continue to enjoy shipping this relationship, whatever their status is. Fans on Twitter are losing their minds for their potential romance and everyone agrees this an "all-systems-go" situation.
Not that you guys need the green light from us, Ashley and Cara, but if you were looking for it, you totally have it.