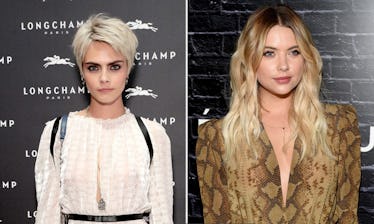 A Brief History of Cara Delevingne & Ashley Benson's Relationship & Its So Cute
Cindy Ord/Getty Images Entertainment/Getty Images ; Michael Kovac/Getty Images Entertainment/Getty Images
Looking for a new, albeit rumored, couple to ship? Well then boy do I have good news for you: I am talking about Cara Delevingne and Ashley Benson. While they have yet to confirm that they are actually a thing (Elite Daily reached out their reps for comment and didn't hear back by the time of publication), they have spent the last few months being super adorable, affectionate, and honestly like a couple of folks who are falling in love. So while I can't technically call them a couple, you can't stop me from shipping them, so hard. Want to join me? Well then, let's break down Cara Delevingne and Ashley Benson's relationship timeline. Because, believe me, if you aren't already invested in this alleged romance, you're about to be.
What exactly has me so excited about them today? Well, I'm going to cheat a little and skip straight to their latest news. Earlier this week, the two of them were spotted together getting very up close and personal in London at the Heathrow Airport. According to the Daily Mail, Benson and Delevingne were "smiling widely as they chatted." It was also reported that "the couple were then seen indulging in a number of passionate kisses as they waited for their ride into London." Swoon.
Here's a full timeline of their possible (fingers crossed!) romance.