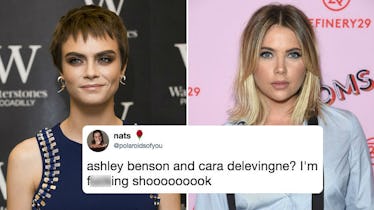 This Cara Delevingne & Ashley Benson Relationship Update Could Confirm They're Dating
Jamie McCarthy & Tristan Fewings/Getty Images Entertainment/Getty Images
Hold the phone, our dreams might be coming true. After months of speculating, this Cara Delevingne and Ashley Benson relationship update might be the proof fans need to confirm the two are actually an item. For real, for real. They've been spotted getting close and comfortable with each other since roughly April 2018, and now photos have finally surfaced of what appears to be a full-on smooch. You heard me. They're kissing, people. Elite Daily reached out to both Benson and Delevingne's teams for comment on their relationship status, but did not hear back by the time of publication.
The Daily Mail reports Benson and Delevingne were photographed on Tuesday, Aug. 14 in Heathrow airport. Both celebs were dressed down. Delevingne was rocking serious braids and sweatpants and Benson wouldn't remove her sunglasses. Actually, Benson was also wearing a necklace with the letter "C" delicately hanging off of it. You can see the pics over at The Daily Mail. Coincidence??? I mean...
They waited for their luggage with their arms wrapped around one another like two regular lovebirds. In fact, paparazzi even snapped a picture of the lips-on-lips kiss. Benson seemed to be looking into Delevingne's eyes the whole time, though it was hard to tell because of her sunglasses and all.
After doing just a little bit of Instagram sleuthing, it seems both women are super excited to attend the Toronto International Film Festival (TIFF) next month to promote their upcoming film together, Her Smell. (Fans can deduce that from their matching TIFF Instagram posts.) Benson wrote she was "beyond and excited" to attend the event and Delevingne said it was "beyond an honor" to be included in the festival. Sounds... beyond. The film stars The Handmaid's Tale's Elisabeth Moss, though both Benson and Delevingne will have supporting roles.
Fans can track the beginning of their fling back to spring when they left Lucky Strike bowling alley in New York City holding hands. Later in May, Delevingne wrapped her arms around Benson while they paid their parking meter. (Romantic, I know.) Now that the new airport pictures are here, fans are back to paying attention to Benson and Delevingne's relationship status.
You better believe Twitter is weighing in and fans have some feelings, yo.
There's also a handful of cute pics floating out there on social media if you dig hard enough. Benson posted a shaky photo in what appears to be a car back around the time the bowling photos surfaced. She captioned it, "after 50 tries...we got a blurry one @caradelevingne." She also added three cherry emojis which could mean nothing, but for dramatic purposes and for funsies, let's say it definitely meant something.
Whenever pictures like the airport kiss surface I always think two things. First: We should just leave them alone, even celebrities are human. That thought is immediately followed by: They're celebrities in a public airport for crying out loud! Surely they know paparazzi are photographing them, which must mean they WANT us to know they're together!
Honestly, it's exhausting to be me, you guys.
Check out the entire Gen Why series and other videos on Facebook and the Bustle app across Apple TV, Roku, and Amazon Fire TV.