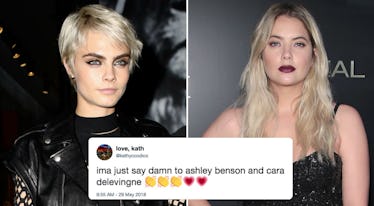 Cara Delevingne Might Be Dating Ashley Benson From 'Pretty Little Liars' & I'm So Shook
Nancy Rivera/Bauer-Griffin/GC Images; Cindy Ord/Getty Images
THIS IS NOT A DRILL. I REPEAT, THIS IS NOT A DRILL. You've surely heard of model-slash-actress Cara Delevingne. You've certainly heard of Pretty Little Liars actress Ashley Benson. But have you heard of the two of them... together? Like, together, together? There are photos going around the interwebs that show the two looking very much like an item, which is leading many to wonder, are Cara Delevingne & Ashley Benson dating? Elite Daily reached out to both teams, but did not hear back by the time of publication.
A few years back, Delevingne addressed her sexuality, explaining that she was bisexual, which many people applauded her for. You do you, girl, we love ya and whoever ya love. But as of recently, it seems that the world has been jumping to conclusions about who she's been dating. Just a few months ago in March of 2018, Delevingne was seen with Paris Jackson, reportedly kissing and dancing outside of a restaurant, which rang the "Are they dating?" alarm, but no confirmation ever came from either party.
But now, photos of Delevingne and Benson have surfaced, sparking rumors that the two are officially an item. According to W Magazine, the two were "stopping at a restaurant and bar in lower Manhattan" before continuing their night at the Soho Grand Hotel, where paparazzi captured photos of the pair wearing matching backpacks and holding hands.
OK, so here's the thing. Just because two women are holding hands does not mean that they are dating. I hold hands with my girlfriends, and I am very much happily married. So let's not immediately assume that every time we see two people holding hands, it must mean they are over-the-top in love with each other.
But.
More photos of Delevingne and Benson have surfaced, where we see the two being casually affectionate with each other — one where Delevingne is bear-hugging Benson and seemingly kissing her neck, and gently resting her hands on Benson's hips.
Upon seeing these absurdly sweet photos, many fans took to Twitter to express their happiness over the idea that these two might be a thing:
One fan even reported that she saw the two making out, though we can't know for sure if this is concrete info, so take it with a grain of salt:
Delevingne must have seen all of the hype about the reported dating rumors, though, so she and Benson decided to troll the world even more by posting pictures of themselves with their mutual friend, DJ Chloé Caillet.
Caillet took to Instagram posing with the two actresses, arm-in-arm with Benson, while Delevingne looks oddly chic wearing a unicorn headband. She captioned it, "found a unicorn," and Benson later commented with the broken-heart emoji (perhaps because the caption was all about Delevingne, but don't take my word for it):
Benson took to Instagram on May 20, a few days before Caillet, with a similar photo, captioning hers "Eloise x 3":
Lastly, some eagle-eyed fans spotted Delevingne on Benson's balcony photo that she posted to Instagram a week ago. Sure, you might only be able to see a sliver of hair and a touch of on-point eyebrow, but the person behind Benson has to be Delevingne. I mean, look:
But hey, that could also just be two friends chilling out on a balcony, and that doesn't necessarily make them an item.
So, do we wish that these two would actually confirm that they're dating? Do we want to hear that they are madly in love? Of course. But as of right now, it seems like we have insufficient evidence to prove it. So until then, we'll just have to keep looking at the images of the two of them together that we actually have, and hoping that we'll be blessed with more of them in the near future.