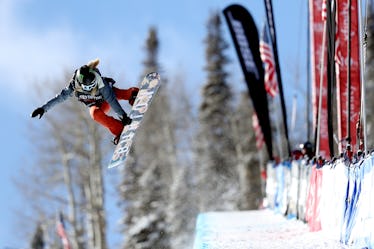 This Is What Athletes Are Most Excited About For The PyeongChang Olympics — EXCLUSIVE
Matthew Stockman/Getty Images Sport/Getty Images
For the past four years, I have been impatiently waiting for the Winter Olympics to come back. Now that the 2018 Olympic Games are finally here, with competitions having begun on Feb. 8, I can let my excitement loose and giddily spend the next two weeks taking in every second of the competition that I can. But while I know what I'm looking forward to (everything), I really wanted to find out what the Winter Olympics athletes themselves are excited for heading into PyeongChang. So, over the past few months, I asked every American Winter Olympic athlete I could find what they were looking forward to — and what us viewers should get pumped about as we settle in to cheer them on from home.
According to some athletes' interviews with Elite Daily, it's all about diving into the competition and proving their skills. For others, it's the magnitude of the event as they represent the United States at an event that strives to promote peace and global collaboration. No matter what each of their specific reasons are, it's clear that there's plenty to get hyped about as the PyeongChang 2018 Olympics get into full swing — especially for the talented few who will be competing.
Duggan is an Olympic vet — she's already done it twice. The "aha moment," she tells me, is when you get to the Olympic Village or opening ceremony and "think about how powerful of a space it is and how many incredible athletes and powerful men and women you're surrounded by."
"It's really being part of something that's so much bigger than yourself or your individual sport — or your individual country. It's so many powerful and amazing athletes coming together from all different walks of life in one space for an event of peace. It's really, really, pretty special," she says.
Young snowboarder Chloe Kim is looking forward to getting back to South Korea.
Her parents immigrated to the U.S. from South Korea, so she's visited the country a lot and has family there. She tells me, while promoting Samsung, she's most looking forward to "the shopping and the food… and snowboarding."
"I love going to Korea," Kim explains, "my mom and I always go to the stores and buy cute clothes at the little boutiques. I always have so much fun in Korea, so I'm really excited to go back with my teammates."
Hockey player Hilary Knight is also pumped to check out Korea — and she has great reasons for you to follow her team.
Knight tells me at a Visa event that she loves traveling and is "always fascinated by different cultures." And if you need some inspiration to sit on your couch and watch her and her teammates exert themselves, she's got it.
"Just watching the Olympics is a no-brainer. You're promoting peace through sport. You're promoting your country as an ambassador through sport. You're impacting people's lives in a positive way," Knight says.
"And why [watch] women's hockey? Because we have a beautiful rivalry against Canada, and we seem to always be the teams to watch. We obviously need to make it to the gold medal game, but, we are just such a fantastic group of women, and I think our country needs strong women as powerful figures. We're a team that they can rally behind."
Similarly, Paralympic skier Alana Nichols offers some indisputable reasons to tune into the Paralympics in March.
Like Knight, Nichols is excited to check out South Korea, which she's never visited before. She says she wants to try the food and take in the culture as much as possible — especially since traveling is one of her favorite parts about being an athlete.
When it comes to why viewers at home should be excited to watch the Paralympics when they begin in March, Nichols, who is part of Team Toyota, cites the inspiring feats we're sure to see. "Tune into the Paralympic Games because you will see things you've never seen before," Nichols says.
"You will see a single-leg amputee barreling down a mountain on one ski. You'll see somebody like myself with paralysis going 70 miles per hour on a mountain, or athletes playing sled hockey that has enormous amount of contact. ... It's basically the Olympic Games with machines involved. I think everybody needs to see it."
Voisin, 19 and part of Team Visa, made the team for the 2014 Olympics (yes, at 15), but got injured before the games and couldn't compete. With that in mind, she says, "I'm just really excited to be able to have another opportunity to represent Team USA and myself."
Bobsledder Elana Meyers Taylor is also thinking about the competition — especially considering the scale of the Games.
The veteran Olympian tells me while promoting P&G that competing is "the most fun part" of the Olympics.
"I love being up at the starting line, hearing the crowd screaming and yelling — of course, they're not always yelling for you, but I imagine that they are," Taylor says. "That's the most exhilarating feeling I could think of is being up there, having the pressure of the world on you, and just having that moment before you're about to go. It's like a serene sense of calm that the storm's about to happen, and it's so exhilarating."
Skier Gus Kentworthy is thinking about TK as he heads into his first Olympics as an openly gay athlete.
He tells me that he's looking forward to "just getting to go and compete as an out gay man and compete for the LGBT community and not feel like I have to hide anything." Kentworthy, who is part of P&G's #LoveOverBias campaign, competed in Sochi in 2014 and came out as gay in 2015.
"The last games, I had a lot of fun, but there's a lot of things I didn't get to enjoy because I was closeting myself and dealing with a lot of that. I think that just getting to be myself now will be a much better experience," he says.
And to wrap it all up, former Olympic figure skater Michelle Kwan is looking forward to "everything" at the PyeongChang Olympics.
"To watch the athletes follow the American flag in the opening ceremonies is such a moment of pride, because I remember walking in there and being like 'I'm here, I've dreamt of this moment forever, and here I am,'" Kwan, who is also part of P&G's campaign, says.
"It's rooting our athletes on, it's happiness — and then sometimes it's the feeling of trying your best and not having all your dreams come true. It's all in the Olympics Games."
To learn more, visit teamusa.org. The Winter Olympics will air live, starting Feb. 8.