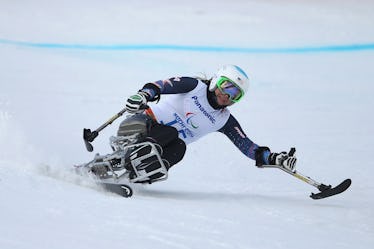 This Paralympic Athlete Has The Best Advice For Young Women About Instagram — EXCLUSIVE
Ian Walton/Getty Images Sport/Getty Images
Alana Nichols was 17 years old when she had a life-altering snowboarding injury that left her paralyzed from the waist down. She thought that would be the end of her athletic career, she tells me in an interview for Elite Daily. Instead, she found a career in adaptive sports — and became the first American woman to win gold medals at both the Summer and Winter Olympic or Paralympic Games. The six-time Paralympic medalist, who competes in wheelchair basketball and alpine skiing, is preparing for the PyeongChang 2018 games as part of Team Toyota. Before she heads out, Nichols has some amazing advice for young women, no matter what barriers they're facing.
After her snowboarding injury, it took Nichols, now 34, two years to move on and find wheelchair basketball in 2003. She was hesitant at first to try it, but after seeing that "it was violent and amazing and athletic," she was hooked. Nichols joined the women of Team USA in wheelchair basketball, winning the gold with them at Beijing 2008. "I found a new life as a Paralympic athlete in that sport," she says. With that victory, Nichols began training in alpine skiing, going on to win gold twice at Vancouver 2010.
But getting to the point where she even wanted to try adaptive sports in the first place took a change in attitude. After her injury, Nichols found herself, naturally, comparing her life with paralysis to her life before it — and "that comparison set me up for disappointment every time."
"I think comparison is the ultimate thief of all joy," Nichols says. "The day I quit comparing my old life to my new one, it allowed me to be who I was and do the best that I could with my current tools and equipment. Whether I had legs or not, I still had my heart and my spirit and my ability to play the game."
With that experience in mind, she wants young women to stop comparing themselves to other people or circumstances, because thinking that way, she says, only creates more barriers to overcome.
"It's so easy with social medial and all of that to just feel bad about what you're doing or how well you are doing in your life," Nichols says. "But, really, it should be you comparing yourself to your yesterday."
Nichols recognizes that "everybody's got something in their life that's impossible," but believes you can make it through with small steps. She knows that moving yourself forward — both mentally and physically — takes a ton of effort. After all, she says, getting back into sports "happened one day at a time and one push forward at a time" rather than all at once after her injury. The most important part to her was just starting, and then continuing to move forward as much as possible every day.
"There were days where I took a lot of steps backwards, but I had hope because of sports and because of my ability to move. That was really what helped me mentally overcome the impossibility of being paralyzed for the rest of my life," Nichols says. "Looking back from the top of the podium was a pretty cool thing because I know that it took a lot of little steps to make one big step."
Along her journey, Nichols was helped by the support of her wheelchair basketball teammates. Being part of a team was "so important" to Nichols as part of her recovery, as she was able "to interact and mingle and trade tricks of the paraplegic world with them, and just feel encouraged that there are other women in the boat and that they are happy, they are seeing their fullest potential." Thanks to their support, she was more prepared to switch to an individual sport: skiing.
"It's not easy, and you don't have anybody to rely on at the end of a ski race. If you win or you lose, it's all on you. Having that responsibility, I think, was a huge transition, but one that basketball really set me up to take on," she says.
You can cheer on Nichols and the rest of Team USA when the PyeongChang Olympic and Paralympic Games begin on Feb. 9.