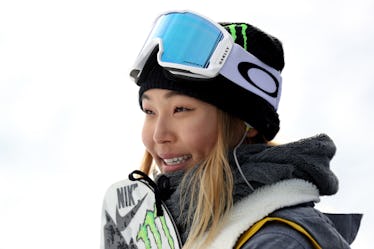 This Teenage Snowboarding Phenom Will Be Your Fav At The Winter Olympics — EXCLUSIVE
Matthew Stockman/Getty Images Sport/Getty Images
The 2018 Winter Olympics in PyeongChang, South Korea, are just weeks away, but one snowboarder in particular has been counting down the years before she was old enough to compete. 17-year-old Chloe Kim is headed to the Olympics for the first time, and she's been regarded as a "gold medal favorite" in PyeongChang. The southern California native could potentially be the youngest American to win an Olympic medal in snowboarding, all before her 18th birthday. Needless to say, all eyes are on her and her half-pipe performance in the upcoming Olympics. Kim — who is part of Samsung's Team Galaxy and clearly embodies the tech leader's Olympic slogan of "Do What You Can't" — spoke with Elite Daily as she prepares for the games.
I wanted to dye it a crazy neon color, but you gotta have gold hair for that gold medal.
While this is her first time competing, this is the second time Kim technically qualified for the Olympics.
Yes, you heard right. At 13 years old, Kim finished on the podium of several Olympic qualifier competitions and took the silver at the X Games. This meant she was qualified (based on skill) to participate in the 2014 Sochi Olympics, but she was too young to actually compete. Four years later — and after winning back-to-back medals at every X game since 2014 — on Dec. 15, she qualified for Team USA for PyeongChang.
Her big claim to fame happened at the Park City Grand Prix in February 2016, when she became the first woman to land back-to-back 1080s in a halfpipe contest. For those who don't know what a halfpipe is, it's three full rotations at about 34 feet from the ground. In a 2016 Sports Illustrated article, Kim was called the "queen of snow" and was expected to "rule snowboarding for years to come."
With a title like that, it'd be safe to say the 17-year-old has some pressure riding on her shoulders. However, Kim maintains a certain confidence that is uninfluenced by her age. She tells Elite Daily,
It's high pressure here for everyone — no matter how old you are it's still very intense. I'm a pretty confident person. I just think it's the fact that I always want to push myself and do the best I can. I never really look at what the other girls are doing because I just want to focus on myself and beat myself and do my best.
Kim has family in South Korea, which makes her first Olympic appearance all the more special.
While Kim grew up in a small beach town outside Los Angeles, her parents both immigrated to the United States from South Korea. They still have family in the country, mostly around the capital city of Seoul, and Kim is anticipating an audience of family members.
"My parents were very excited as we had a pretty emotional talk about how far we've come and all the hard work that was put into it. I think it's very meaningful to them," Kim says. "My family is already planning the whole trip in PyeongChang, and my grandma has never seen me compete. It'll be quite the emotional journey for my whole family and hopefully everyone's really proud of me afterwards."
Kim's known for her fun hair colors, but she went with the classic "gold" this winter for obvious reasons.
Considering she is covered head-to-toe in snow gear most of the time, Kim uses hair color as an outlet for expression. She also makes sure to post about it for her 153,000 Instagram followers. From rainbow to blue to icy grey, Kim has done them all.
For the Winter Olympics however, Kim opted for the classic blonde instead of an outrageous color for one specific reason. She tells Elite Daily, "I wanted to dye it a crazy neon color, but you gotta have gold hair for that gold medal."
Kim is most excited to go shopping in Korea... aside from, y'know, winning a gold medal.
In a 2017 interview with Vogue, Kim said, "I'm much more of a city girl. I like the mall. I like shopping." She reportedly prefers ripped jeans, crop tops from Zara, and Laneige makeup like the self-professed "girly girl" that she is.
When asked what she is most excited about for PyeongChang, Kim tells Elite Daily it's all about "shopping and the food" — and snowboarding, too, of course. "I love going to Korea," she says.
She's has been listening to Khalid's song "Location" as she prepares for PyeongChang.
The 17-year-old enjoys shaking her nerves out with dance breaks while she does her makeup and enjoys mellow music right before she hits the snow. She tells Elite Daily that she enjoys her throwback favorites, citing Fergie and Gwen Stefani, and some newer artists with more relaxed vibes like Lana Del Rey and Khalid. Khalid's "Location" has been particularly on rotation in the weeks leading up to the Winter Olympics.
Keep an eye out for the halfpipe superstar as she is expected to take the gold and continue breaking records in her first Winter Olympics.
To learn more, visit teamusa.org. The Winter Olympics will air live, starting February 8.