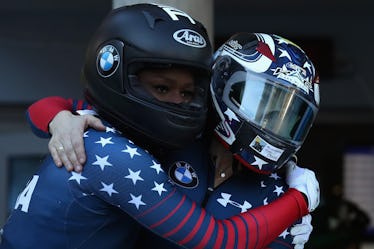 This Is What It's Like To Represent Black Athletes In Winter Sports — EXCLUSIVE
Alexander Hassenstein/Getty Images Sport/Getty Images
When she's competing for medals in the far-away, snowy villages that typically host winter competitions, bobsledder Kehri Jones can feel the difference. "You can't help but notice people don't see people like you all the time," the 24-year-old, hopefully-soon-to-be Olympian tells Elite Daily. Bobsledder Jones and teammates Aja Evans, along with bobsled veteran Elana Meyers Taylor are three of the few black athletes potentially heading to the PyeongChang Olympics as part of Team USA.
UPDATE: The U.S. women's bobsled team was announced on Jan. 13. The team consists of drivers Elana Meyers Taylor and Jamie Greubel Poser as well as brakewomen Lauren Gibbs (with Meyers Taylor) and Aja Evans (with Greubel Poser). Briauna Jones is going to PyeongChang as the replacement athlete.
EARLIER: That difference — between how Jones and other athletes look — matters when it comes to how much her efforts get promoted, too. "It's definitely a lot harder for us to make, like, race day posters and be featured on different random things because we're not what winter sports look like," she says.
Meyers Taylor, the 33-year-old medalist of two Olympic games, also points at a lack of representation. "The hardest thing is you don't see a lot of people of color in winter sport in general," Meyers Taylor, who is also a P&G athlete and who helps recruit for the bobsled team, tells Elite Daily. "To understand that people in all shapes and sizes can be successful in the sport of bobsled, which is a winter sport, is hard for people to wrap their head around. Yes, we have the movie Cool Runnings, but people mostly think it's just a Disney movie and it didn't really happen."
Not fitting a certain look is one of the more obvious facts of lie for black athletes in winter sports, both Jones and her teammate — 29-year-old Aja Evans — tell Elite Daily in separate interviews. Neither of them harp on that fact, though. Both agreed that one solution to not fitting certain standards is making a new one by doing one thing: winning.
"Five out of the six women that went to the [2014] Olympic games for Team USA [in bobsled] were African-American. Three out of the six on the podium were black. I just think that we came with a certain dominant presence that you couldn't ignore," Evans says.
Evans is right. Both she and Jones, who will experience her first Olympics at the PyeongChang Winter games in February 2018 — provided they qualify a month before — have thus far been successful within their sport. Not too long ago, though, Evans and Jones were thinking about a different type of Olympic games.
That's because both Evans and Jones had been track and field standouts — the former at the University of Illinois and the latter at Baylor University — and like most track and field standouts, the two women had dreams of starring at the Summer Olympics, where black athletes are no rare sight. But then came a sudden career change for each, which subsequently led to them starring together in a winter sport and, now, on track to be representing as black athletes at the Winter Olympics.
Before then, Evans said the idea of being a black athlete didn't weigh much on her.
"My mom always raised be to be pretty determined and goal-oriented regardless of my race, my sex, or anything like that," the 29-year-old Evans tells Elite Daily. "But it wasn't until I kind of got this platform with bobsled to where I realized it was even bigger than that. And so, when we first came into the sport and started making waves as African-American women dominating in a predominantly white or European sport, then I started to realize the impact I had and the platform I had, and I do wear that very proudly."
While the bobsled team featured five black athletes at the 2014 Olympics, there were only six black athletes among the more than 200 representing the United States in Sochi.
Being highlighted for that novelty can be frustrating, though, Jones says. "Yeah, it really is, because I think a lot of times people don't realize we're more than just athletes," Jones tells Elite Daily. "We're actually very educated human beings. Like, the majority of our team has master's degrees. You know, we're very educated and we're more than just being black, and being fast, and being good at sports."
Jones holds a master's degree, in health and human performance, as does Meyers Taylor. Though she doesn't want to, Jones says she's sometimes prompted into flaunting those accolades.
"A lot of times if you talk to somebody, you can tell by the way that they're talking to you a lot times how things are going," Jones says. "Sometimes, even though I do not like to flaunt my education a lot of times, sometimes you have to so that people will know that you're not just a dumb jock. So, yeah, I find myself having to do that sometimes, which I really don't like to do. I wish people would treat everybody like we're all — at least have a high school education."
Should Evans compete in South Korea in February, she'll be hoping she can flaunt medals instead — and those speak for themselves.
To learn more, visit teamusa.org. The Winter Olympics will air live, starting Feb. 8.