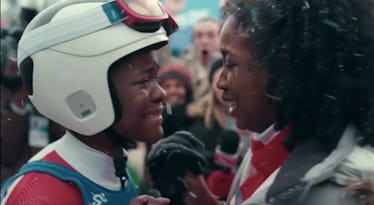 The Winter Olympics' "Thank You, Mom" Commercial Is Here & I'm Already Crying
February 2018 is right around the corner, which means it's almost time for the Winter Olympics in Pyeongchang, South Korea. And with a new round of Olympic Games comes a new round of just falling apart with emotions about the world and human ability. With fewer than 100 days until the games being, the new Winter Olympics "Thank You, Mom" commercial from P&G is finally out. And, yeah, you're probably gonna cry.
This time around, the theme is #LoveOverBias, and it shows "how a mother's love can overcome that bias," Olympic bobsledder Elana Meyers Taylor tells me. "All of us experience bias in some form or fashion. For me, it's a lot of gender bias, but there's also been bias against the color of my skin, against what I do, being an elite female athlete," she says.
But Taylor was able to overcome that bias — and become one of the first women, along with Kaillie Humphries from Canada, to pilot a mixed gender four-person bobsled — because her mother told her at a young age "that it didn't matter what people say, I could do whatever I wanted to."
"I made it to the national level in used skates, borrowed costumes," Kwan says.
Olympic skier Gus Kentworthy, who is noted as the first openly gay action sports athlete (and who you might remember for rescuing puppies in Sochi in 2014), also had his mother's support to persevere. To him, the #LoveOverBias concept is all about "seeing the world through a mother's pair of eyes, the way that my mom sees me in such an unconditional and such a loving way."
You can see that idealized world in the 2018 ad here:
"Love over bias means seeing people for who they are and what they are, and not what you think they are based on a previous misconception or previous judgment," Kentworthy says. His mother, Pip, tells me she hopes the #LoveOverBias campaign "helps people realize that they have to accept people for who they are and to love them for who they are and not be cruel and unkind."
Although she was "anxious" about Kentworthy coming out, which he did in a 2015 interview with ESPN, ultimately, Pip "knew that he would have an influence on young people in the future struggling with the same issue, and that he had something to show them and a message." That message of openness and acceptance is something she hopes comes through with the campaign.
A mother's support doesn't just come in emotional encouragement, as Olympic figure skater Michelle Kwan knows well. "In my upbringing, we didn't have perhaps the financial means as other skaters," she tells me. Because of that, her parents had to make sacrifices for her career, and they were dedicated to giving her that opportunity to be a champion.
"I made it to the national level in used skates, borrowed costumes," Kwan says. "I didn't see myself as disadvantaged, but I had this amazing opportunity that my parents provided me [with] and felt empowered that way to make the most of that opportunity."
Once The Olympics begin in February, we're bound to here even more inspirational stories like Kwan's. After all, the Olympics are ultimately all about bringing the world together to bring out the best we have to give (yes, even in curling).
"It's such a unique and diverse event," Taylor says. "You have people from all over the world — all different countries, all different ethnicities, gender, everything — representing their country and really just going out there and trying to represent their best self. All of us got there because of our moms, and because of our families, and because of their influence."
Ugh, yup, I'm already crying.