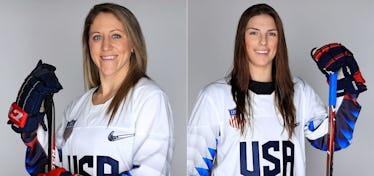 The Women's Olympics Hockey Team Is Fighting For Much More Than Gold — EXCLUSIVE
Mike Ehrmann/Getty Images
If 2017 was a good year for the U.S. women's national hockey team, 2018 is gearing up to be even better. The 2018 U.S. women's Olympics hockey team is a major group to watch at PyeongChang in February, and it's not just because they're gunning for the gold. Over the past year, the team has fought for equality, and they tell Elite Daily that now, they're hoping those efforts will translate into a rise in women's hockey across the country.
"[Hockey has] been a huge, huge component of my life, and I want to be able to change the sport for the better and leave it in a better spot for all those young girls that are coming up and dreaming of playing in this program and playing for Team USA," team captain Meghan Duggan says.
I think our country needs strong women as powerful figures. We're a team that they can rally behind.
It was with this in mind that the team threatened to boycott the world championship tournament last March. They were following in the footsteps of the U.S. women's soccer team, demanding fair wages and equal treatment to the men's teams. "It's 2017, and we shouldn't be having these issues or these discussions right now. It should sort of just be a part of life that everyone is treated equally," star player Hilary Knight tells me at a Team Visa event.
This was about more than just their own payment: The women were demanding infrastructure for both women's and girls' programs so that women's hockey as a whole could sustainably grow. After a two-week boycott, the women's hockey team reached a deal with USA Hockey "that will result in groundbreaking support for the U.S. Women's National Team program over the course of the next four years," according to a joint press release.
"You have to respect people as humans. They're competitors; they have just as much sweat equity in whatever competition that they're doing," Knight says. "I know that was a big stickler — 'Oh, they won't sell tickets like the men do' — but look how many years the men have had financial support and resources to be able to get to where they are. Why don't we cut that learning curve completely and catapult women's sports on a world stage?"
Oh, and that world championship tournament the team nearly boycotted? They won it.
As competitors, of course the women want to win the gold in PyeongChang, but they're also hoping for another kind of victory. Knight explains, "It starts a little bit with this gold medal that we need to win. It's going to catch like wildfire in the U.S. and hopefully spark these young imaginative minds to say, 'You know, I want to do what they did.'"
"We want the future generations in USA Hockey to be able to flourish and not have to run into some of these roadblocks," Duggan adds. As she sees it, their initial fight for equality happened because they had "the right group of powerful leaders on our team." The fight ultimately succeeded because women — from the team to fans to other athletes — stuck together.
"We could've gone down real fast if, when they tried to create a scab team, it was easily picked and they went and played in the world championships. But it was so important to us that everyone stuck with us, and by all of us standing together and having each other's backs, we were able to elicit the change that we wanted to see," Duggan explains.
Knight acknowledges that "there's still a lot of work to do" — but they don't have to do it alone. You can support them simply by paying attention. Duggan says the team really does see messages of support on social media, so send them. She also adds that one way to support them is to take the fight for equality to your own space. "Just starting the conversation wherever you are, if things aren't going the way that you feel is fair, is a good starting point," she says.
And when the competition starts in PyeongChang, look out for the U.S. women's hockey team.
"Why [watch] women's hockey?" Knight muses. "Because we have a beautiful rivalry against Canada, and we seem to always be the teams to watch. We obviously need to make it to the gold medal game, but, we are just such a fantastic group of women, and I think our country needs strong women as powerful figures. We're a team that they can rally behind."
To learn more, visit teamusa.org. The Winter Olympics begin February 8.