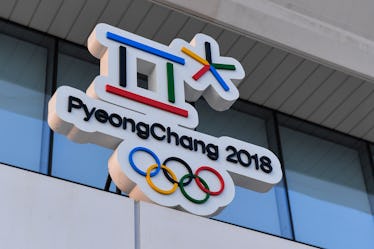 The 2018 Olympics Are Coming Up Fast, So It's Time To Get Pumped
Koki Nagahama/Getty Images Sport/Getty Images
Alpine Skiing, Ice Hockey, Luge, Bobsleigh, Figure Skating… it's all coming soon in the 2018 Winter Olympics. This year's games will take place in PyeongChang, South Korea and mark the 23rd Winter Olympics. If you are like me, then you are partial to the winter games and are probably thinking, so when do the 2018 Winter Olympics start?
It's just around the corner, so get ready to get excited. The PyeongChang 2018 opening ceremony is set for Friday, Feb. 9, but the competition games begin a day earlier on Feb. 8, and extend through to Feb. 25. This year will be the second time that South Korea has hosted an Olympics. The first was back in 1988, when Seoul hosted the Summer Olympics.
If you are looking to catch the opening ceremony, it will start airing at 6 a.m. ET on Friday morning. If you are an early bird and want to start watching it live, it will be available for you on NBCOlympics.com. But if that's too early for your blood, NBC will also have a fully-produced showing at 8 p.m. ET. So don't worry if you're not ready for some Olympics action at the crack of dawn.
All the regular classics are back, but this year some new events are being added to the list. According to the official PyeongChang 2018 site, the new events will "help the Games bridge the gender divide." For the first time there will be a mixed doubles event in curling, and Alpine Skiing, which is usually a solo event, will have mixed teams for the first time.
There are also some events that are being added for sheer excitement. Athletes will now be able to compete in big air snowboarding and freestyle skiing. All said and done, the athletes will compete among various disciplines in 15 sports: alpine skating, biathlon, bobsleigh, cross-country skiing, curling, figure skating, freestyle skiing, ice hockey, long-track speed skating, luge, Nordic combined, short-track speed skating, skeleton, ski jumping, and snowboarding, hoping to take home one of the more than 100 medals!
In addition to their being some cool new events, PyeongChang 2018 also boasts advances in technology.
According to The Guardian, Samsung Netherlands will be sponsoring two Dutch speed skaters and equipping them with suits that have special sensors that send real-time body position data back to their coaches smartphones. The smartphone software can then analyze the skaters' racing posture and even suggest improvements that the coaches can then relay back to a band on the athlete's wrist through buzz signals. Don't worry, though —this suit will only be utilized during training. Using it during the actual game would be comparable to taking performance enhancing drugs, or "digital doping," as The Guardian calls it.
If you are interested in seeing the suit in action, watch this:
PyeongChang will also introduce the Giro Avance, the latest development in multi-directional impact protection (MIPS) helmets. These helmets will be worn by some members of the U.S. skiing team. Because skiers can achieve speeds of 90mph, it's important that a lot of research and effort goes into the helmets that protect from severe cranial damage in cases of high-energy crashes. Or at least mitigate the damage. According to The Guardian,
The Avance MIPS features ball-and-socket style slip planes that help reduce rotational movement during an angled impact. In addition, the shell of the helmet features a "hammerhead" design that is supposed to reduce the impact from slalom gates.
Better than all the technology, PyeongChang also wants to introduce you to two new mascots: Soohorang and Bandabi.
Soohorang will serve as the official mascot of the PyeongChang 2018 Winter Olympics and Bandabi is the mascot for the 2018 Winter Paralympics. According to the Korea Herald, both mascots are backed by strong symbolism and culture that are closely associated with Korean folklore and mythology.
Soohorang is a white tiger, an animal that is regarded as a sacred guardian in Korea. The official PyeongChang 2018 site reads,
"Soohorang not only has a challenging spirit and passion, but is also a trustworthy friend who protects the athletes, spectators and all the participants of the Olympic Games."
Bandabi, on the other hand, is an Asiatic bear, which represents strong will and courage.
Now that you know all about the adorable and meaningful mascots of PyeongChang 2018 Winter Olympics, make sure to tune in to the opening ceremony on Friday, Feb. 9. and the start of the games the day before. Happy viewing!
To learn more, visit teamusa.org. The Winter Olympics will air live, starting Feb. 8.