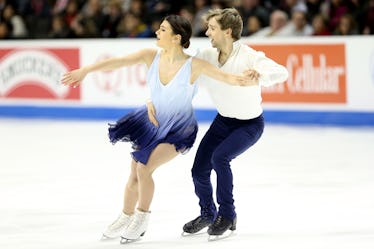 Here's How Many Sports Are In The Winter Olympics, So You Can Plan What To Watch
Matthew Stockman/Getty Images Sport/Getty Images
It's finally that time of the year when the Winter Olympics disrupts the patterns of our everyday lives, consuming copious amounts of our attention for a two-week period. I mean, how could it not? There are all kinds of exhilarating competitions: hockey, ice skating, alpine skiing and countless others that, honestly, make it hard to keep up with. If you were already wondering how many Olympic sports there are — here's what you should know (so you can plan what you want to watch accordingly, of course).
There are 15 different Olympic sports that will be in the 2018 Winter Olympics, set to begin in Pyeongchang, South Korea on Friday, Feb. 9 and end on Sunday, Feb. 25. The sports include alpine skating, biathlon, bobsleigh, cross-country skiing, curling, figure skating, freestyle skiing, ice hockey, long-track speed skating, luge, Nordic combined, short-track speed skating, skeleton, ski jumping, and snowboarding. The event will be the first in history to host more than 100 medal events, according to CNN.
Whew! What a mouthful. Anyways, here are some of the most popular sports to keep your eyes on.
Alpine Skiing
Alpine skiing includes four different components, all of which include going down a hill, making it a really fun, edge-of-your-seat kind of experience. TIME also reported that Mikaela Shriffrin, an Olympic gold medalist, is slated for another win at this year's competition, so you might want to keep your eyes peeled for her (in case you want to place a friendly bet, but we're not encouraging you).
Biathlon
Biathlon is a combination of skiing and rifle-shooting. Watching it is super entertaining and mind-blowing, largely because it just seems way to impossible to manage both at the same time. It makes sense for it to be one of the highest-syndicated sport events during the Olympics.
Figure Skating
There's something so intriguing and exciting about seeing a skater effortlessly glide across the ice, twisting and spinning in the most exquisite, ballerina-like manner. Nathan Chen, the first man from the United States to win the 2017 ISU Grand Prix Final in eight years, beat his competitor by less than one point and will compete this year — so you might want to keep an eye out for him.
Snowboarding
Snowboarding is considered one of the most "hardcore" winter sports. Plus, with Olympic medalists like Shaun White or Seth Westcott who have dominated the sport over the years, it's always intriguing to see who will claim the top spot.
Ice Hockey
Ice Hockey can be pretty dangerous with players slamming into each other and vigorously fighting over a tiny puck, but at the same time, it makes for great competition and entertainment. This year, the men's U.S. team is out because the National Hockey League barred them from the competition, but it'll still be cool (no pun intended) to see what results the women's team produces.
The Summer Olympics usually get a lot more press coverage than the Winter Olympics.
There are generally a lot more sports at the Summer Olympics in comparison to the winter event. At the 2020 Summer Olympics in Tokyo, Japan, there will be more than 40 sports, including archery, badminton, basketball, boxing, canoeing, cycling, equestrian, fencing, football (soccer), golf, gymnastics, handball, hockey, judo, modern Pentathlon, rowing, sailing, shooting, trampoline, and more — which probably is the reason the event gets more love. But if you ask me, the real challenge is playing a sport in the cold!
If you're planning ahead for what you need to record on your DVR or perhaps what sport you're gonna have a watch-party for, you honestly can't go wrong with anything on this list. Get your popcorn ready and prepare to see these athletes to snag your full attention.
To learn more, visit teamusa.org. The Winter Olympics will air live, starting Feb. 8.