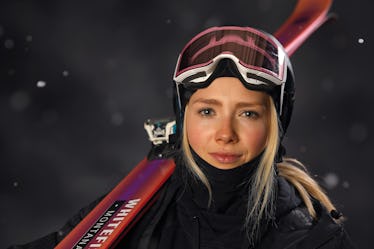 This Skier Is Going To Her Second Olympics & You'll Cry When You Hear How Young She Is
Ezra Shaw/Getty Images Sport/Getty Images
Thought you were doing pretty well for yourself? Well, this young Olympian might have you rethinking that. How old is Maggie Voisin, might you ask? Well, the superstar freeskier just turned 19 years old last December.
Don't let her young age fool you, this athlete is a total boss. Among her slopestyle accolades are silver in the 2014 X Games Aspen and bronze in the 2017 X Games Norway, and ultimately she secured gold in the 2018 X Games Aspen. Some may think Voisin's young age could lead to competitors and audiences underestimating her performance, but Voisin believes that since slopestyle is such a young sport, she won't have to worry about being underestimated for her age.
"I wouldn't say people underestimate me," Voisin tells Elite Daily. "Free skiing is a young sport, and it's kind of crazy — I'm not the youngest anymore. There's a lot of young athletes."
Voisin is the second youngest competitor on the U.S slopestyle team, the first being her 18-year-old teammate Caroline Claire.
While Voisin has established herself within the X Games, the Olympics are a whole other story. She first qualified to compete for the Olympic slopestyle team in 2014, but unfortunately broke her ankle while practicing on a course in Sochi, Russia, the last Winter Olympic host city. If Voisin had competed in the 2014 Sochi Winter Olympics at 14 years old, she would have been the youngest American competitor to compete in the Winter Olympics since 1972. Due to the injury, Voisin was sadly forced to withdraw from the competition.
So is Voisin ready to hit Olympic level slopes? The answer is yes. Her wins in the X Games make Voisin a big medal hopeful for the U.S slopestyle team, and even her young age can't shake the fact that her name is well regarded among Olympic circles.
"I think going into the last Olympics I was definitely a rookie and really unheard of, so at that point, no one really expected me to make the team," Voisin tells Elite Daily. "But once I made a name for myself, I think, hopefully nobody underestimated me."
Having came from a ski family, the sport is second nature to a professional like Voisin. However, it's not often that the opportunity to compete in an event such as the Olympics happens often. Voisin doesn't take this for granted. Instead, she tells Elite Daily that she uses this gift as a way to inspire others and wakes up everyday feeling like her life is a dream.
She says,
I've been in the industry since I was 15 years old, and obviously I grew up skiing, I'm from a ski family, so it's kind of in my blood, I would say. But sometimes, it's not easy to take it for granted, but you just forget that — you know — holy crap, I get to wake up every single day and do what I love. It's absolutely phenomenal. Not only do I get to do what I love and train for myself, but I get to inspire all these other people to achieve whatever they're dreams may be.
The missed opportunity to compete in the 2014 Sochi Winter Olympics must fuel Voisin to make this competition her greatest accomplishment yet. For a young woman in sports, there's certainly a lot to prove. And never fear, Voisin is ready to take her skills to the slopes and inspire other aspiring young athletes to do the same, without worrying about their age.
"For me, being young and being successful, that's kind of always been my thing," Voisin tells Elite Daily. "I just want to be able to inspire whoever, and it's kind of cool that I get to do what I love but also represent myself in a bigger way."
Whatever her age may be, Voisin is here to slay. Good luck out there girl!