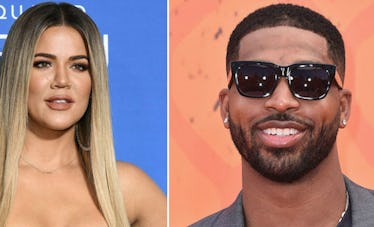 Khloé K May Have Revealed Her Current Relationship Status With This One Detail
DIA DIPASUPIL/ALBERTO E. RODRIGUEZ/GETTY IMAGES
Months after the news broke in April 2018 that Tristan Thompson had allegedly cheated on Khloé Kardashian while she was pregnant, this one detail at Kylie Jenner's birthday party on Thursday, Aug. 9 hints that things might still be pretty strained between the couple. Not only did the NBA player skip out on Kylie's 21st bash, but this IG of Khloé Kardashian said "It's Complicated" with Tristan Thompson, and TBH, I'm not that surprised.
I'll admit that I was pretty enraged at Thompson after the cheating allegations came out, but I've been trying to accept that Khloé Kardashian knows what's best for her and her life. However, this one major detail — a green cup in KoKo's hand that indicates "it's complicated" — at Kylie Jenner's birthday party on Thursday night hints that their relationship might still be on the rocks, per The Daily Mail. Elite Daily reached out to Khloé Kardashian's team for comment about her current relationship status, but didn't hear back by the time of publication.
Honestly, I almost missed the green-hued clue amidst the Kar-Jenner clan's next-level party attire and a photo booth that was seriously lit. While fans were quick to note that Thompson was not in attendance at the bash, it was Khloé's choice of drink vessel at the stoplight-themed party that really hinted that there might be trouble in paradise. Per model Winnie Harlow's Instagram Story, Kylie color coded her party cups to reflect if the revelers were single, taken, or in a "complicated" situation.
Apparently Khloé is just as confused about where she and Thompson stand as we are, as hairstylist Jen Atkin later shared a video to her Instagram Story on Thursday night of the fitness guru dancing and looking completely fabulous with a green solo cup (which was for those people in a "complicated" situation) in hand. Atkin captioned it, "And just in case ya'll forgot..."
A few other signs at the party also indicated that Khloé's sisters might not be the biggest fan of her beau, despite previous reports that the Kardashian family apparently forgave Thompson for his alleged transgressions and even re-added him on social media. He was noticeably MIA during the gathering (although Kourtney Kardashian's ex Scott Disick was in attendance). Plus, fans noted that the birthday girl herself seemingly shaded the Cavaliers basketball player by unveiling a family mural during the party that included caricatures of her sisters as well as Disick and Kris Jenner's boyfriend, Corey Gamble. Thompson was nowhere in sight.
However, it's unclear when the mural was commissioned, and Kourtney Kardashian's recent ex, Younes Bendjima, is also absent from the painting, so it could just be an oversight or mean that they just haven't been dating long enough to be memorialized in the Kardashian-Jenner family tree.
For a while now, KoKo fans have been biting their tongues and just trying to let their girl be happy because it seemed like all was forgiven when Khloé decided the stay with the athlete. The pair tried to co-parent Baby True and move forward with their relationship.
One thing's for certain: Whether or not things stay "complicated" between the new parents, something tells me that Khloé will weather whatever happens in the future just fine with the help and support of her sisters.