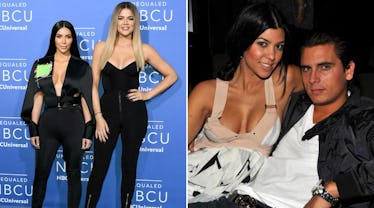 Kim & Khloe K's Videos Of Kourtney & Scott At Kylie's B-Day Party Give Us So Much Hope
Dia Dipasupil/Frazer Harrison/Getty Images
Do you dream of the day that Kourtney Kardashian and Scott Disick announce that they're back together? If you answered yes, it seems like you're in good company, if Kim and Khloe K.'s videos of Kourtney and Scott from Kylie's 21st birthday party are anything to go by. It seems like despite this couple's turbulent on-again, off-again relationship, the Kardashian krew is ready and willing to welcome Disick all the way back into the family fold.
If you didn't happen to catch the Insta stories live, here's what happened. Last night, the Kardashian-Jenner family were all in attendance to ring in Kylie's 21st birthday. Disick was also in attendance, and at some point in the night, ended up sitting at a table with Kourtney. The two seemed relaxed and chill being around each other. Normally this would totally seem like no big deal — I mean, two grown-ups peacefully coexisting at a family party isn't really that exciting — but Kourtney's sisters seized on the moment to declare their feelings about a reconciliation between the exes... and troll their big sister in the process.
In Khloe's video, she captures the two of them sitting side-by-side while Scott is on the phone. No big deal, but she captions the video with "A girl can dream." So yeah, I think we can safely assume she would love to see the two get back together now that Kourtney is single again after reportedly splitting with now-ex Younes Bendjima.
Not to be outdone, Kim also posted a video of Scott and Kourtney sitting at the table, and this time both of them were on their phones. Kim narrated the video saying, "Oh, just like an old married couple, on your phones." While no doubt she was teasing her older sister, you can't help but get the feeling she wouldn't mind the two of them reuniting.
What makes these videos especially interesting is the timing, specifically that it happened just two days after Kourtney and Bendjima's two-year relationship came to an end. While Kourtney may be newly single, all evidence points to Disick still being in his relationship with Sofia Richie. Us Weekly reports that, according to a source, Disick "will always love and be there for Kourtney and is just happy that they are on good terms for the sake of their kids. He has Sofia and doesn't want to be bothered with any drama." At the same time, sources also told E! News that seeing Kourtney with Bendjima made him "insanely jealous" adding, "He just can't come to terms with the fact that Kourtney has found true happiness with someone else." He is also reportedly pretty thrilled that Kourtney and Benjima ended things. As a source told E! News, "Scott is very happy Kourtney cut it off with Younes. Although he is happy in his relationship with Sofia [Richie], he never liked Younes for Kourtney." A mature reaction! Disick's come a long way from smashing mirrors in Miami.
So, what does the future hold for these two? Is a reunion imminent? Well, it's not likely, but ultimately time will tell. At least now we know that Kim and Khloe are Team Scott all the way.
Check out the "Best of Elite Daily" stream in the Bustle App for more stories just like this!