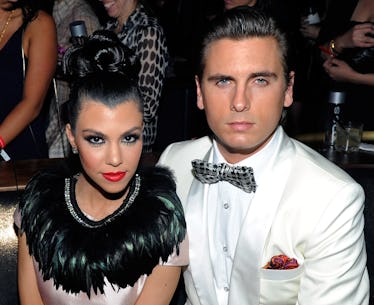 The Reason Kourtney K & Scott Disick Aren't Getting Back Together Is Pretty Understandable
Ethan Miller/Getty Images Entertainment/Getty Images
Kourtney Kardashian's recent breakup is making lots of fans nostalgic for her relationship with former beau Scott Disick. The two have three kids and a really, really long history together, which is prompting fans to ask themselves one question: Will Kourtney Kardashian and Scott Disick get back together? No matter how much fans may want a reunion between them, it doesn't look like it's going to happen.
According to a new report from Us Weekly, Kardashian and Disick are not looking to jump back into a relationship with each other. Elite Daily has reached out to both Kardashian and Disick's teams regarding this report, but has not heard back at the time of publication.
In Us Weekly's report, which was published on Aug. 8, a source close to Kardashian and Disick revealed that there is no plan whatsoever for the former couple to get back together. Apparently, they're more than happy to be apart right now.
The source revealed, "Nothing with Scott is rumored or even remotely on the horizon at all, so while people will inevitably try to spin it and say he'll try and get back with her, they aren't going to."
Additionally, Us Weekly's source told the magazine that Disick is totally content to leave Kardashian in his past and focus on his current love, Sofia Richie.
"He and Sofia [Richie] are happy where they are now and they're simply doing their own thing," the source explained. "And Scott and Kourtney are co-parenting their kids as they have been with great success."
So, what I'm gathering here is that Kardashian and Disick are mostly focusing their attention on their kids and leaving their own relationship woes behind them. Sounds like both of them have moved on, which is great!
But moving on doesn't necessarily mean that they don't care about each other anymore. In fact, Disick still has a lot of love for Kardashian, according to Us Weekly's source.
"Scott will always love and be there for Kourtney and is just happy that they are on good terms for the sake of their kids," the source revealed. "He has Sofia and doesn't want to be bothered with any drama."
In another report, a source claimed to E! News that Disick is happy Kardashian split with Bendjima. The source close to Disick reportedly said that Disick never really liked Bendjima to begin with. Elite Daily has reached out to Disick's team regarding this report, but has not heard back at the time of publication.
"Scott is very happy Kourtney cut it off with Younes," E! News' source said. "Although he is happy in his relationship with Sofia, he never liked Younes for Kourtney."
A second source for E! News confirmed that Disick wasn't happy about Kardashian's relationship with Bendjima:
It was hard for him to see Kourtney dating and he was looking for any reason to not like Younes. But since being with Sofia, he has moved on. Scott cares a lot less than he used to. Of course, Kourtney has a very special place in his heart and always will. He wants Kourtney to be happy.
So, while fans are hopeful for a Kardashian-Disick reunion, it's probably not going to happen.