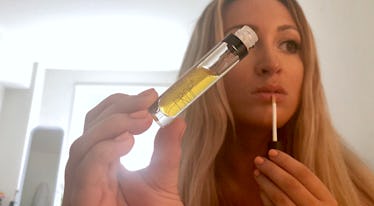 The Reason This Clear Gloss Looks Yellow In Its Tube Will Convert You To Natural Lip Products ASAP
Bella Gerard
For most of my life, I wasn't necessarily a "natural" gal. When it came to my beauty, skincare, and hair products, I often prioritized how well they performed or how cute the packaging was over how safe or healthy the ingredients were. I know, now, this was not a great way to approach products I was applying directly onto my skin, but hey, you live and you learn! And now that I've learned, I'm on a quest to find the very best natural beauty products that contain only the safest ingredients, but still deliver my desired results. For these reasons, I'm coming at you with this Crop Natural Smooth Glide Lipgloss review, because if there's ever been a product your lips needed, I'm here to argue it's this one.
When I heard Crop would be releasing color cosmetics, I immediately felt confident that the products would be winners, as I was already caught in a love affair with their skincare collection. Their Purifying Turmeric Mask ($30, cropnatural.com) has become a staple in my weekly masking routine, but I'm here to report that it's now my second favorite yellow product made by the brand. What's the first, you ask? The Crop Natural Smooth Glide Lipgloss ($24, cropnatural.com) in the shade "Golden Glow," thank you very much.
I know what you're thinking: My teeth are yellow enough, so what on earth am I doing applying a yellow gloss? Interestingly enough, the product looks yellow in its tube, but applies like any other clear gloss on the lips. And its yellow hue is actually a good thing, because it means the formula is chemical-free, according to the brand.
This gloss contains rice water, jojoba oil, and shea butter, and it's both 38 percent organic and 100 percent naturally derived. In fact, it's also one of the first of its kind to be COSMOS-certified, so prepare to learn a little something if the only cosmos coming to mind are the ones you order at the bar. (I'm a martini girl, myself.)
The COSMOS standard was created by a group of European organic and natural cosmetics standard-setting organizations to acknowledge cream-of-the-crop natural beauty products. Certified brands and products are as organic and natural as possible, as well as eco-conscious and sustainably produced. There are a ton of regulations a product has to meet to be COSMOS-certified, so to meet this gold standard of ingredients and still be a bomb cosmetic product is pretty impressive.
Charlie Denton, the founder of Crop, can give a little more insight into why the "Golden Glow" gloss meets the standards other clear glosses don't: "Most synthetic lip glosses contain a various mix of synthetics to give the clear colour," Denton says. "They can also contain a number of proven irritating synthetic Silicones (e.g dimethecone), Polymers (e.g polybutene) and other questionable ingredients including a range of polyethylene glycols (PEGs)."
When Denton helped ignite the brand's foray into color cosmetics, he knew developing a safe formula was as important as packaging or pigmentation — and he made sure all the products would be formulated under the COSMOS-standard. So in order to create a clear gloss, he knew he'd have to go yellow to get it just right.
"[The gloss] is yellow in colour because of the combination of castor oil and various vegetable/plant oils within the product," Denton explains. "These oils are rich sources of vitamin E and not only protect the lips, but will repair damage to the lips also. All of our cosmetic products have been formulated to ensure they all have skin caring benefits." This goes for the rest of the Smooth Glide Lipglosses as well: There are three other shades, "Birthday Suit," "Vamp Me," and "Leading Lady," and they all meet the same organic, clean-formula standards, just in more colorful hues.
When I tried them all out for myself, my first impressions were through-the-roof positive. Since I knew how clean the formula was, I was surprised to find that the glosses didn't sacrifice pigment or shine in the name of their organic ingredients. A clear gloss-lover, "Golden Glow" quickly became my go-to, and I started swiping on the super-smooth, non-sticky formula as often as possible. My lips haven't looked chapped or lackluster since. I've even had a friend compliment me on the gloss' scent and shine, and TBH, if I'm rocking colorful winged liner and lashes, the last thing I'm expecting is to be praised for my clear gloss. Apparently, this stuff is just that good.
Denton also makes a good point in regard to why lip products, above all other cosmetics, need to be safe: "You do ingest some quantity of whatever you put onto your lips. Unlike any other body part, to me — products used on the lips should really be using natural or proven 'safe' ingredients." While Denton's perfect world would feature solely natural products, the lips are the only area for which he insists natural formulas should be a must for everyone. And his argument makes a lot of sense. Why would you apply something potentially harmful or unhealthy directly onto your mouth?
While I'd be lying if I said I'd successfully converted 100 percent of my beauty routine to natural cosmetics — there are just some palettes I can't bear to part with just yet — the Crop glosses have convinced me to change my ways in the lip region. And if glosses aren't your thing, I'm happy to report that the brand has a range of Intense Matte Lipsticks as well ($26, cropnatural.com), featuring six long-wearing, highly pigmented shades.
Me, realizing I can still rock statement lips while wearing natural products:
So, next time you see me and I whip out this little yellow tube, know that not only are my lips about to look super glossy and shiny, but they're also being treated to a high-quality, safe, natural formula. After all, they deserve only the best!