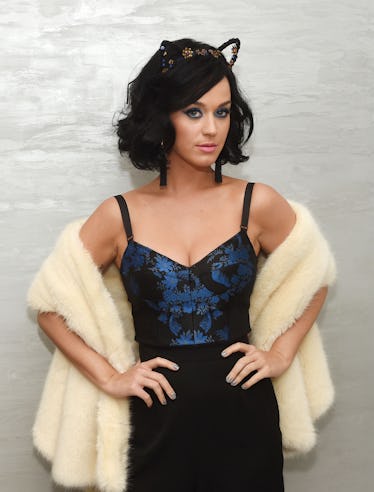 The Old School Way Katy Perry Makes Her Lips Look Bigger Without Injections
Jamie McCarthy/Getty Images Entertainment/Getty Images
While certainly aesthetically cool, uber shiny lip products tend to come with a major downside: a super syrupy texture that traps any stray hair that might cross its path. I'm a '90s kid, so I would know. But the new collection of Katy Perry x CoverGirl Katy Kat Lip Gloss ($8 each; ulta.com) promises to eliminate that sticky situation, thanks to an advanced formula that will give you the blinding lips of your middle school dreams.
In an interview with Refinery29, Perry reveals that she actually used to avoid lip gloss at all costs. "I was such a matte lip person — I would only use a pencil," she says. But when she had an aha moment about the transformative power of the product, she changed her mind. "...this year I started to use a lot more gloss because I realized it makes your lips look bigger without having to do any injections," she reveals. Gotta love a good trompe l'oeil!
But don't get it twisted: even though the singer's 12-piece collection of lip products is of the glossy variation, she promises they are a textural step up from the variations found in every girl's Jansport backpack in the mid-2000s. "You mean, the lip gloss that your hair would get stuck to and then make streaks across your cheeks?" she asked Refinery29. "Listen, I was such a big fan of those Dior glosses, so I get it. And I liked the look of MAC's Lip Glass, I just didn't like the feel. It was more of a constant annoyance."
I couldn't agree more, which is why I'm dying to try Perry's glosses, which she herself says boast high shine factor but feel super satiny. What's more, they come in a color range that would make Lizzie McGuire faint with joy, including a bubblegum pink, lilac purple, aquamarine blue, brick red, and more. Along with the glosses, Perry has released a slew of other products through CoverGirl, including her luminescent Pearl Collection, mascara, and matte lipsticks. Each product is perfect for anyone who is as experimental with their beauty looks as Perry is.
As Refinery29 notes later in the interview, Perry has become synonymous with the bold, gutsy, and unforgettable candy colored hairstyles she's tried over the years. However, she's stuck with a bleached pixie cut for quite awhile. "Cutting my hair meant I didn't have to hide behind it," she says. "My face really stands out [now], and I actually feel a lot prettier with my short hair. I've really gotten to know my face better."
Speaking of, I was absolutely shocked to read about a skin care product Perry uses on the regular. Back in high school, Proactiv's three-step system was the acne treatment to get. Once I started struggling with acne seriously in college, I decided to give it a try. For me, it did nothing but dry out my face and make my skin red and itchy. But for Perry, who has appeared in ads for the brands, it has legitimately worked — for the past ten years!
I used to have really, really bad skin in my early 20s when things were starting to pop off, so it was stress-related and my body was changing from coming out of the teenage years. I remember I was doing laser treatments, trying different ointments, going to very expensive facialists, and nothing worked. Someone recommended I try the Proactiv cleanser and I thought, 'No way, no how will that fix anything.' And I've been using it for 10 years and it's been incredible. I don't break out because of that.
However, Perry also makes a point to mention that she's also gravely cleaned up her eating habits, which has also helped the appearance of her skin. "In the past year, I've eaten better than I have ever eaten — less fast food, less sugar — and the sustainability of my body is so much better. My face just glows," she says.
Perry might be one of pop's biggest stars, but in the blink of an eye, she's also become a beauty guru in her own right.