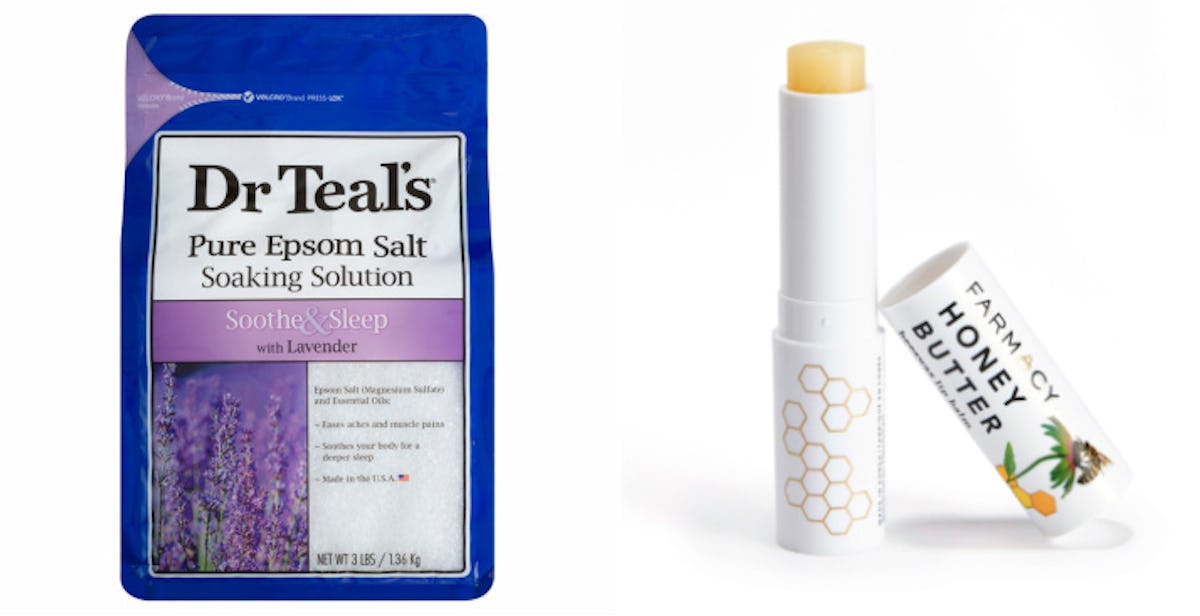 These Natural Beauty Products Work Amazingly Well & Cost Less Than A Burrito
Dr. Teals/Farmacy
Sometimes it seems like there are two sections of makeup stores: the fancy stuff that utilizes minimalist packaging and costs 9 million dollars — and the other side. The one with cheap makeup whose ingredients is a parade of words that read like gobbledygook and can be found in Drano. But there are gems, people. There are natural beauty products that actually work. Hidden deep within the aisles of Target and CVS, where the light doesn't hit — there are secrets. Like deep-sea treasures, inexpensive and natural products lay dormant and in wait.
Even in the past year, I've been shocked to see the rising prevalence of natural and fair-trade products that are affordable and really work. More and more I'm finding that higher cost beauty and fashion doesn't inherently mean anything. It's all about the ingredients and the brand's dedication to creating products that create a healthier world. In their business practices and products, these brands are showing us that good quality doesn't have to ruin you financially — that will come along with the new tax plan, so don't worry. You can thank the evil deep sea krakens aka Congress for that one.
So buckle up your seat belt, my babies. I hope you packed your lunch, because I am about to rock your ~wORLD~.
Raw Sugar Natural Hand Wash
Raw Sugar Natural Hand Wash, $5, Target
Truly the nectar of the goddess, this soap smells like heaven. I know hand soap seems basic, but this is your base layer. Before you put on makeup, or face cleanser, or anything else, you gotta use this hand soap.
Gone are the days of cheap antibacterial soap, which, turns out, have harmful chemicals that can seep in through your pores and change your hormone balance.
This soap is inexpensive, luxurious AF, and ready to make you smell like a tropical beach vacation.
Farmacy Honey Butter Lip Balm
Farmacy Honey Butter Lip Balm, $10, Farmacy
OK yes, it's a 10 dollar lip balm, but here me out: this brand is as actually farm-to-face as you can get. Farmacy grows all their super-moisturizing, plumping, and soothing ingredients (echinacea, honey, royal jelly, beeswax) on a beautiful, bee-friendly farm. Their products are so good you can literally eat them, which is perfect because you end up eating everything you put on your lips anyways.
Add in the fact that this uber-soft balm possesses the subtle scent of a honey butter biscuit, and I rest my mouth-watering case.
Palmers Coconut Oil Moisturizing Lotion
Palmers Coconut Oil Moisturizing Lotion, $4, Target
I've actually used Palmers since high school, and I am loving their new coconut oil line. This lotion is for sure thicker than a snicker, and it's perfect for sensitive skin. It also smells like pina colada coconut yogurt, and lasts all day.
Pro-tip: I also love the coconut oil anti-oxidant firming lotion, but it is currently sold out everywhere online. If you can find it, snatch it up for you and all your friends.
Dr Teal's Epsom Salt Soothe & Sleep Lavender Soaking Solution
Dr. Teal's Epsom Salt Soothe & Sleep Lavender Soaking Solution, $5, Target
Bath salts have gotten a bad wrap recently, which is v tragic because oh my gosh, they are wonderful. These bath salts can help exfoliate the skin, reduce foot odor, soothe sore muscles, reduce toxins in the body, and promote general relaxation.
Do a face mask while taking a leisurely epsom salt bath, and it's like double BANG for your buck.
Not Your Mother's Clean Freak® Unscented Refreshing Dry Shampoo
Not Your Mother's Clean Freak Unscented Refreshing Dry Shampoo, $4, Target
Dry shampoo is the glue that holds my graduate-school body together, and this one is good as hell. Not Your Mother's is a great and affordable brand, and available at most drugstores. I love that this one doesn't smell like like fake flowers or shower fre$h because personally, all those smells gag me with a spoon and forcibly remind me of a dark time in my history (middle-school).
This dry shampoo is also volumizing AF, and I also like to apply before styling. If you want a super fluffy braid, this dry shampoo is the call.
Yes to Cucumbers Hypoallergenic Facial Wipes
Yes to Cucumbers Hypoallergenic Facial Wipes, $4, Target
Reader, I love you so much. Did you know that? Good.
Because you need to stop sleeping with left-over makeup on your face. I'm serious. Pretend I'm Future You, wearing head-to-toe lycra visiting from a time machine:
Wash your face, Susan.
Sleeping with makeup and various junk on your face will quicken anyone's resemblence to E.T., and I don't want that for you.
These facial wipes are super mild and are your last line of defense after going dancing with your buds and inhaling an obscene amount of Taco Bell. Keep these in your purse for sweaty face emergencies, or by your bedside to wipe off your cheeto-dusted fingers (no judgement, just love). For only $3, your Future Self will thank you.