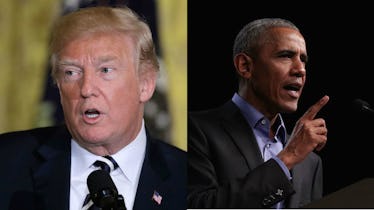 These Tweets From Trump Vs. Obama On The Same Topics Say So Much About Them
Chip Somodevilla/Getty Images News/Getty Images & Alex Wong/Getty Images News/Getty Images
In case it wasn't obvious by now, Donald Trump and Barack Obama are two very different presidents. These two men differ in opinions on so many topics, and it's never more apparent than in their respective social media postings. Just check out these tweets from Trump vs. Obama on the same topics, and decide who you agree with.
We all know that Donald Trump loves sharing his opinions on Twitter, unfortunately. Barack Obama, on the other hand, doesn't necessarily spend his free time typing away on his keyboard. However, when an important event or topic comes into conversation, these two men always take to social media to either express their opinions and thoughts on the matter. I must admit, if you blindfolded me and read tweets from each of them aloud, I'm pretty confident I'd be able to tell who wrote each tweet.
Needless to say, Trump is quite an expressive tweeter, and he isn't showing signs of slowing down anytime soon. In fact, in February 2016 — in the midst of the primaries — Amanda Hess wrote a piece for Slate claiming that Donald Trump is actually the best at Twitter because he's able to be loud and get many points across.
Hess pointed to several of his tweets, including from August 2012, when Trump said: "It's Friday. How many bald eagles did wind turbines kill today? They are an environmental & aesthetic disaster."
Consider "aesthetic disaster" my Twitter bio from here on out.
The year 2012 was clearly a much more simple time for the current president, but Trump still liked to opine on many topics. I've compiled a list of three main topics that both Obama and Trump have discussed on Twitter, and honestly the differences are astounding.