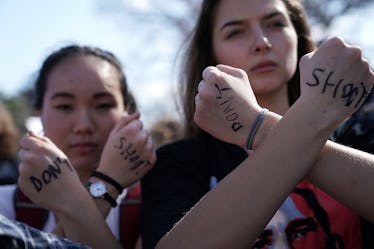 Here's What's In Trump's Plan To "Harden" Schools & It's A Mixed Bag
Alex Wong/Getty Images News/Getty Images
After a February shooting at a high school in Parkland, Florida claimed the lives of 17 people, all eyes have been on Washington to see how President Donald Trump and Congress will move forward on gun control. Trump's gun violence proposal, announced by the White House on Sunday, March 11, focuses on a few specific outcomes. While the proposal includes assistance in arming teachers and improving background checks, but doesn't address the age limit required to purchase automatic rifles.
Among the measures the Trump administration said it would take to help curb gun violence is a commitment to provide voluntary "rigorous firearm training" for educators, according to the Post. The National Rifle Association (NRA) has voiced its support for this plan, which would be implemented by the Department of Justice in conjunction with local entities. The administration said it would also assist ex-military and law enforcement individuals shift towards work in educational settings.
Olivia Bertels, one of the two educators who launched the #ArmMeWith movement to voice teachers' responses to the idea of arming school staff, shared her thoughts on the proposals via email.
"The proposals do little to address gun violence outside of school shootings and fail to recognize it as an epidemic rather than a series of isolated incidents," Bertels tells me. "Rather than represent the overwhelming, mobilized interests of students and teachers across the country, he has once again bowed to the NRA's threats."
As another initiative, the White House said it would set up a Federal Commission on School Safety to look into best practices for preventing future attacks, led by Education Secretary Betsy DeVos.
The administration also announced it would look into reviewing the FBI tip line as well as resources around mental health. Additionally, it urged states to adopt extreme risk protection orders, which would give law enforcement authority to take away weapons from those deemed a threat to themselves or others and prohibit them from purchasing new ones.
The White House, per the Post, is also supporting two pieces of legislation coming out of Capitol Hill. The first is the STOP School Violence Act, introduced by Rep. John Rutherford (R-FL), meant to prevent gun violence in schools by better reporting warning signs. The second is a Senate bill to improve the background check system. Sixty-two Senators have now signed on to co-sponsor it, The Hill reports.
Finally, the administration on Saturday took the first step towards limiting the sale of bump stocks, which allow semi-automatic weapons to fire at automatic rates. The Department of Justice, led by Attorney General Jeff Sessions, submitted to the Office of Budget and Management a notice to propose adding bump stocks to the list of regulated devices under the existing National Firearms and Gun Control Act.
Trump's proposal of various commitments to address gun violence represents a mixed bag, especially for proponents of stringent gun control.
Despite the president's earlier support for raising the minimum gun purchasing age from 18 to 21, the Trump administration Sunday didn't mention this in its plan. Trump earlier expressed interest in raising the age limit, saying in a Feb. 28 meeting that he was "going to give it a lot of consideration," citing the fact that the minimum age to purchase an AR-15 is lower than for an everyday handgun. The NRA, in a February meeting with Trump, urged him not to raise the age limit.
Some felt that the legislation didn't go far enough, either. Jaclyn Corin, a Parkland student, on Twitter called the act "A step in the right direction, but not even close to enough." While it helps keep students safe in schools, she points out, it wouldn't protect them off campus.
Public outcry for gun control has been massive since the Parkland shooting, with protests nationwide. In response to the pressure, lawmakers around the country have taken up the issue of gun control anew, with Florida and Oregon already passing legislation and bills being introduced in a handful of others.
Trump initially expressed interest in the idea of arming school teachers as a way to deter mass shooters during a White House listening session on the subject of gun violence on Feb. 22. In response, Bertels and other educators took to social media with the #ArmMeWith movement to show Washington what they needed rather than guns. Within a few days, the teachers who started the movement told Elite Daily they'd received over 7,000 responses from educators nationwide with solutions on how to prevent gun violence in schools.
The movement has gone beyond hashtags as the country is gearing up to take to the streets. Three major demonstrations are taking place around the nation this spring to protest gun violence in schools, all of them led by students. While several demonstrations have already taken place, the first official walkout begins on Wednesday, March 14, the Enough! National School Walkout, led by EMPOWER, the youth arm of the Women's March organization. This walkout will be followed by the March For Our Lives on Saturday, March 24, organized by student survivors from the Parkland shooting. Finally, the National Student Walkout, organized by a high school student from Connecticut, will happen on April 20.
The planned demonstrations have gotten widespread support, and not just in words. Celebrities like George Clooney and Oprah (and now, even NBA players) are among the many who have made donations to fund the events. As of writing, the March 14 walkout had listed over 2,500 registered walkout events around the country, with a few taking place abroad.
It's unclear what effect any or all of these measures might have on preventing gun violence, but the increased public pressure on Washington to address gun control doesn't seem likely to wane anytime soon.