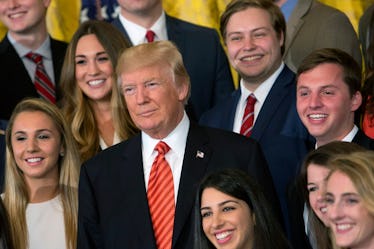 These Pics Of Trump's Vs. Obama's Interns Says So Much About Their Administrations
Pool/Getty Images News/Getty Images
Well, it looks like the White House is looking exactly that: white. It's no secret that the Trump administration isn't that popular among minority groups and people of color, but the photo of Donald Trump's intern team has really been raising some eyebrows. Check out these photos of Donald Trump vs. Barack Obama's interns and see how many differences you can spot.
The White House released the group intern photo to promote their internship program on March 30. The photo shows a room filled with beaming, young faces, but there's something that's too apparent to ignore. It appears that all of the interns, except two, are white. It's been a running joke that the Trump administration has been historically white in terms of its team members, but this photo might just take the cake.
Since the photo surfaced, people have been comparing Donald Trump's intern team to Barack Obama's and the differences are staggering. As opposed to Trump's team, Obama's internship program in 2012 and 2014 shows a diverse selection of young millennials, including along race and gender lines. Plus, the way Donald Trump and Barack Obama interact with the interns is also very telling. In Trump's photo, he stands in the middle of the interns with his arms to his side. In Obama's photo, he's wrapping his arms around the interns' shoulders.
It's like Where's Waldo: White House internship edition.
This lack of White House diversity is a huge problem for sure, and Twitter is definitely pointing it out.
One tweet read, "Last summer and this spring, the White House had a combined 206 interns. Among them: 3 black men. 0 black women. Out of 206."
Since the White House internship program caters to millennial voices, it's obvious that Obama's team represents a much more realistic America. According to a Brookings Institution study published on Jan. 2, millennials make up 75 million of the U.S. population. Of those millions, 44% are minorities, making it the most diverse generation in American history.
You wouldn't be able to guess those statistics just looking at Trump's intern team. There could be a few reasons why the interns are so lacking in diversity, including people of color choosing not to apply for the program, but it doesn't erase that there's a huge diversity problem happening here.
Believe it or not, this isn't the first time a white-washed political intern photo has surfaced across the internet. On July 16, 2016 House Speaker Paul Ryan posted an Instagram of him taking a selfie with a group of Capitol Hill interns. The differences between this selfie and Trump's intern team are much less apparent, since once again basically all the interns in the photo are, you guessed it, white.
Unfortunately many aren't that surprised by Donald Trump's intern team. If anything, it symbolizes a bigger problem and that's the lack of diversity within Trump's own cabinet. As the only black female supervisor, Omarosa Manigault Newman left her position as director of communications for the White House Office of Public Liaison in December 2017. Since then, the Trump administration barely has any people of color, much less women of color, in high positions in the White House.
Newman spoke to Good Morning America about her resignation on Dec. 14, 2017, and said that she had seen things that made her "uncomfortable."
She said,
As the only African-American woman in this White House, as a senior staff and assistant to the president, I have seen things that have made me uncomfortable, that have upset me, that have affected me deeply and emotionally, that has affected my community and my people.
We can make jokes all we want, but inclusion and diversity are key steps to ensure a strong and progressive future for this country. Here's to hoping changes will be seen soon.