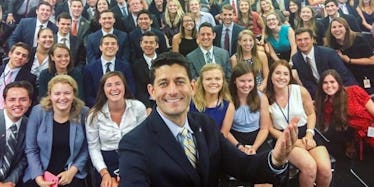 Democratic Interns Imitate Paul Ryan's Viral Selfie To Prove Important Point
By now, you probably know the story of that picture House Speaker Paul Ryan took ahead of the Republic National Convention. But if you don't, here's the skinny.
Speaker Ryan took a selfie with Capitol Hill interns, and in an instant, it became the lowest of low-hanging fruit for people on social media. There's no lack of appetite on Twitter to call out something for being that "white," so it was no surprise when Ryan's pic was treated accordingly.
Yeah, you get the picture.
This selfie was just begging to be contrasted with other photos, and one politician took note.
Rep. Terri Sewell -- who, by the way, is the first-ever black congresswoman in Alabama -- took this photo with Democratic interns and, well, see for yourself.
Executed perfectly. Sewell posted a photo that's a clear response to Paul Ryan's photo without actually mentioning Paul Ryan. Then, Sewell slyly slipped in a Maya Angelou quote. That's like posting a revenge body selfie for your ex while captioning some miscellaneous Beyoncé lyrics.
Oh, and the difference between the two parties' pictures is obvious.
Welp.