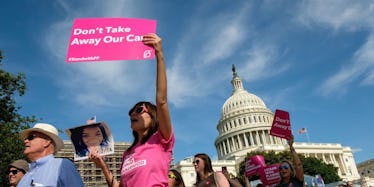 Women's Health Groups Are Really Not Happy With The Senate's Health Care Vote
Drew Angerer/Getty Images
Planned Parenthood and other major women's health organizations have responded to the Senate's vote on the Affordable Care Act (aka Obamacare). The Republican-majority Senate, with a tie-breaking vote from Vice President Mike Pence, voted to open discussions on repealing Obamacare. They will now debate the concept.
The repeal of Obamacare is something that the GOP has been trying to do for years. A health care bill passed in the House in May, but it is stumbling in the Senate. That bill was very unpopular as the nonpartisan Congressional Budget Office (CBO) estimated it would leave more than 23 million people without insurance by 2026.
The Senate introduced a new version of a health care bill, but it is also with issues. A replacement bill is being referred to in general as Trumpcare. Now, after fumbling on making a new health care bill themselves, senators will discuss possible plans for just getting rid of Obamacare and what a replacement would look like.
The CBO estimates that 17 million people would lose insurance by 2018 should Congress repeal Obamacare without a replacement. A shocking 32 million people would lose insurance by 2026.
Women's health advocates are worried about the potential effects for women. The Republicans' replacement bills include language that would defund Planned Parenthood while potentially taking away Obamacare protections on access to birth control.
Planned Parenthood is not impressed with the Senate vote.
Dawn Laguens, Executive Vice President of Planned Parenthood Federation of America, said in a statement,
From ending maternity coverage and the birth control benefit for millions to blocking women's access to preventive care at Planned Parenthood, every version of Trumpcare has been devastating to women. And at every step of the process, this legislation has only gotten worse as Republican leaders have chipped away at women's health and rights. The Senate must reject Trumpcare, or they will be responsible for putting millions of people's lives at risk.
As Planned Parenthood has been saying, Laguens reiterated that Trumpcare would be "the worst bill for women in a generation."
NARAL Pro-Choice America was similarly disturbed.
President Ilyse Hogue said in a statement,
Republicans like Sens. Dean Heller and Rob Portman should be ashamed of themselves for ignoring the floods of people calling, protesting, and fighting like hell to keep their healthcare coverage. The senators who voted to advance this bill yet again demonstrated that they will cast the health and well-being of women and families to the side in order to score points with the fringe elements of their base.
The Center for Reproductive Rights called a plan to repeal Obamacare a "disaster."
President and CEO Nancy Northup said in a statement,
Repealing the ACA would be a disaster for all Americans, and would deal a devastating blow to women's health and well-being. Senate Republicans are using undemocratic and unprecedented means to rob coverage and critical services from millions of women, sending them back to a time when women's health care services were not considered essential.
The National Institute for Reproductive Health said this move shows "Women's health and reproductive rights are in extreme danger at the federal level."
President Andrea Miller said in a statement,
Senate Republicans voted to open the floodgates and debate a harmful health care bill that would leave millions uninsured, devastating underserved communities. As drafted, the proposed bill would undo the benefits of the Affordable Care Act, which vastly improved women's health and gave 55 million women affordable access to birth control. It would stifle access to reproductive health care and could threaten coverage for maternity services and other essential health benefits, limiting access to care for new mothers.
Physicians for Reproductive Health and the Women's March also expressed disappointment and frustration.
Dr. Willie Parker, Board Chair of Physicians for Reproductive Health, said in a statement,
I am disappointed that the Senate rushed ahead with their efforts to repeal the ACA, without the benefit of listening to the medical professionals, patients, and advocates who understand what's at stake for our nation's health.
And the Women's March called the vote "shameful" in a statement, adding,
We will continue to face sexist and misogynistic policy that harms us from this administration and congress. We will meet each hurdle with the same veracity and commitment.