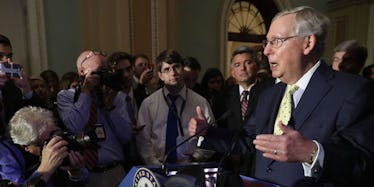 Sexual Assault Survivors Would Be Hurt By Senate's New Trumpcare Bill
Chip Somodevilla/Getty Images
Republican senators revealed their version of a new healthcare bill on Thursday, June 22, and it would have major effects on survivors of sexual assault.
The House passed their American Health Care Act (AHCA) in early May, and now the Senate is working on their version. This new bill is called the Better Care Reconciliation Act (BCRA).
"The healthcare bill would be disastrous for sexual assault survivors' access to healthcare," Sejal Singh, policy and advocacy coordinator for Know Your IX, a project under Advocates for Youth, tells Elite Daily.
Despite the name difference, there are not many differences between the AHCA and the BCRA.
But one major difference is that the Senate version takes away the House's point on pre-existing conditions.
Under the Affordable Care Act (ACA, aka Obamacare), it was a requirement that insurance companies could not charge higher premiums for people with pre-existing conditions.
Under the House bill, states could choose to opt out of that requirement and let insurance be more expensive for people with pre-existing conditions. That part freaked a lot of people out as it relates to sexual assault.
But the Senate bill does not include that language -- so pre-existing conditions are still protected.
With this, survivors are protected from being discriminated for assaults and conditions related to assaults.
However, the Senate bill still includes language that would harm sexual assault survivors.
That's because the Senate bill takes away the essential health benefits requirement of Obamacare.
Under Obamacare, essential health benefits -- which includes things like mental health services, hospitalization, birth control, prescription drugs, and lab services -- were required to be covered by insurance companies.
But the Senate bill allows states to waive that requirement, so they do not have to follow it. This could have a devastating impact on sexual assault survivors.
"If you have PTSD or depression as a result of that violence or you need to get STI treatment or you need to get counseling, you may not be able to access prescription drugs or other healthcare needs," Singh says.
On top of physical and emotional damage, sexual assault is a costly crime for someone to experience.
Survivors with insurance pay on average $948 for medical care related to a rape, according to a recent study by the American Public Health Association.
The insurance companies pay on average $5,789 to cover the rest of the costs for that care.
So if survivors are unable to get insurance coverage, they could be facing upwards of $6,000 for medical care related to an assault.
"It seems appalling to me that in this country in 2017, someone could suffer this horrific violence and then be saddled with thousands of dollars in medical bills to recover," Singh says. "If people aren't able to get that medical care, it could impede their ability to stay in school or go back to work."
Planned Parenthood provides services that help sexual assault survivors, and, Singh points out, "all of their providers are trained to be affirming and supportive of sexual assault survivors."
So on top of insurance-related issues, survivors would lose access to an important care provider.
"It becomes all the more difficult for survivors to access basic medical needs," Singh says.
The Senate is supposed to vote on the bill next week, but it's already facing opposition from both sides.