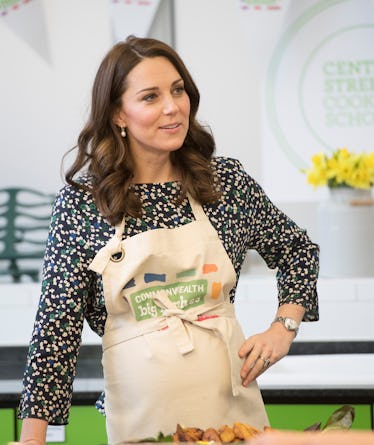 Kate Middleton Just Had Her Third Baby & Apparently No One Knew She Was Pregnant
WPA Pool/Getty Images Entertainment/Getty Images
On Monday, April 23, Kate Middleton gave birth to her third child, a boy, at St. Mary's Hospital in London. Despite having months to soak in her pregnancy, see her at public appearances, and speculate over if it'd be another boy or girl, however, these tweets from fans who didn't know Kate Middleton was pregnant show some people somehow just really missed the whole thing entirely. To be fair, it has been a pretty busy year when it comes to big-name pregnancies and weddings, but even so, y'all, get with it!
"Her Royal Highness The Duchess of Cambridge was safely delivered of a son at 1101hrs," Kensington Palace announced in a tweet on Monday. "The baby weighs 8lbs 7oz. The Duke of Cambridge was present for the birth. Her Royal Highness and her child are both doing well."
Kensington Palace announced that Princess Kate was pregnant way back in early September. That was about seven-and-a-half months ago, so the world really was kept in the loop from nearly the very start of this entire pregnancy. Meanwhile, throughout the last several months, Middleton and Prince William haven't exactly been coy about the pregnancy. They gave interviews and made frequent public appearances, with Middleton showing her bump to the people.
I mean, I just don't know what else you all need to stay informed! They were out here!
Although, however, it really was a busy year, so it's entirely possible that this pregnancy just got totally overshadowed. Over in the UK royalty world, Prince Harry got engaged to Meghan Markle, and a ton of attention has been paid to those upcoming nuptials. And all of that seemed to happen at a whirlwind pace for those of us not actually in the royal family — the engagement was announced in late November, and the wedding is coming up in mid-May, so the world actually had less time to process the wedding than Princess Kate's baby.
Meanwhile, over in the U.S. royalty world over the past year, Kim Kardashian and Kanye West had their third baby via surrogate, Kylie Jenner and Travis Scott had their first child, and Khloé Kardashian had her first child with Tristan Thompson — along with all the ensuing drama within that relationship. So, really, there's been a lot to keep up with when it comes to major baby news this year.
And so, as the announcement came in on Monday morning, a ton of people were shocked by the news, having totally missed that Princess Kate was pregnant in the first place. Many sounded off on Twitter.
But then, on the flip side, there were people who knew way too well that Kate was pregnant.
This is Princess Kate and Prince William's third child and their second son. As every third child (*coughs* me *coughs*) knows far too well, you're probably going to get a ton less attention than the older siblings got at their births, and apparently this rule applies for royals, too. It's only natural that families (... and royal watchers) are going to care more about a first kid than a third. It's also totally rude, ya jerks #justiceforthirdchildren.
Even so, I'm sure that once everyone realized Kate was, in fact, pregnant, they were very happy to hear about the health of herself and her newborn baby boy. After all, he's still a major royal, who will be getting the title of His Royal Highness Prince of the United Kingdom of Great Britain and Northern Ireland, just like his brother, George, and sister, Charlotte, and he is fifth in line to the throne, behind Charlotte (a fact that made history!). So, there is a ton here to celebrate, and now that you know, you better save a toast for the third-born.