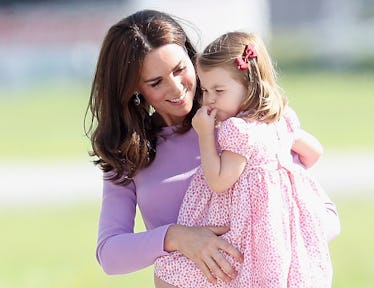 Princess Charlotte Made History Because Of Her Baby Brother's Birth & It's Huge
Chris Jackson/Getty Images Entertainment/Getty Images
Sounds the alarm — er, trumpets! A prince is born! Kate Middleton and Prince William welcomed their third child, a baby boy, on April 23. If you're someone who is hip to royalty, you might wonder what it means for his big sister, Princess Charlotte. Will Princess Charlotte lose her spot for the throne due to her little bro? Actually... nope, and it's making history.
People reports that thanks to something called the Succession of the Crown Act 2013, Charlotte won't be knocked out of line for the throne just because her younger sibling is male. The act states that the order of birth determines who becomes king or queen, not gender. This means Prince George, 4, is up first of his siblings, then Princess Charlotte, 2, then their new baby bro. The legislation was passed during Kate Middleton's first pregnancy with Prince George. Under Chapter 20 of the Act, it states: "An Act to make succession to the Crown not depend on gender; to make provision about Royal Marriages; and for connected purposes." The act also says it's chill for royal family members to marry someone of the Roman Catholic Faith.
What can they say? They're one hip family.
In the early hours of Monday, April 23, Kensington Palace announced Kate Middleton was in labor. For some reason, it also told us how she got to the hospital. Kensington Palace tweeted:
Her Royal Highness The Duchess of Cambridge was admitted to St. Mary's Hospital, Paddington, London earlier this morning in the early stages of labour. The Duchess travelled by car from Kensington Palace to the Lindo Wing at St. Mary's Hospital with The Duke of Cambridge.
Just a few short, happy hours later, it was announced Middleton and William welcomed a baby boy.
Her Royal Highness The Duchess of Cambridge was safely delivered of a son at 1101hrs. The baby weighs 8lbs 7oz. The Duke of Cambridge was present for the birth. Her Royal Highness and her child are both doing well.
It was added, "The Queen, The Duke of Edinburgh, The Prince of Wales, The Duchess of Cornwall, Prince Harry and members of both families have been informed and are delighted with the news."
Dude. What a time to be alive.
I know this article isn't technically about Meghan Markle, but if we're being honest, isn't everything really about Meghan Markle right now? Her new nephew's arrival (nephew!) marks the first family birth she was around for, making her and this baby's bond pretty special. The new prince made his debut just a few weeks before Prince Harry and Markle's big wedding day, meaning he and Aunt Meghan became royalty basically at the same time.
Kinda sweet when you think about it like that, right?
Markle and Middleton have also reportedly developed a bond over the past few weeks during the exciting months of Middleton's pregnancy and Markle's engagement.
Back in January, a source told E! News,
Kate knows how difficult it is navigating one's way through this very different world. [And] it was important to [Harry] that Meghan and Kate got to know each other, as she has experienced many of the challenges Meghan now faces... It's an exciting time and it's going to be really interesting what they do together as a four in the future. There's a lot of buzz across the [Kensington Palace] household.
Uh, ya think?
Congratulations Kate and William, and welcome new baby boy! Everything the light touches is yours... after George and Charlotte are done with it, that is.
Check out the entire Gen Why series and other videos on Facebook and the Bustle app across Apple TV, Roku, and Amazon Fire TV.