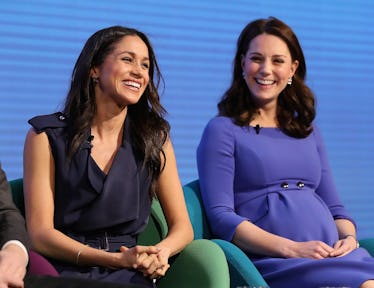 Meghan Markle & Kate Middleton's Friendship Is Getting Even Closer & I'm Loving It
Chris Jackson/Getty Images Entertainment/Getty Images
Meghan Markle and Kate Middleton have been neighbors for a while now. Before Prince Harry and Meghan Markle were engaged, Markle would stay with Harry at Nottingham Cottage on the grounds of Kensington Palace whenever she was in the U.K. Now that they live together full time at Nottingham Cottage, Markle and Middleton are just a stone's throw away from each other on any given day. And Meghan Markle and Kate Middleton's friendship is apparently better off for it. A source told Entertainment Tonight that Middleton has been helping Markle adjust to life as a royal, and their homes being so close together has helped a lot on that front.
"Kate has been doing whatever she can to help Meghan adjust to life behind Palace walls," the source said. "Of course with two little ones, and a third on the way, Kate has her hands full, but she's been guiding Meghan on Palace protocol and supporting her." The source added that Markle often brings homemade food and treats over to Middleton's 20-bedroom apartment in Kensington Palace for her future niece and nephew. "An avid cook," the source said, "Meghan often pops around to visit with Kate and the kids dropping off treats. Meghan has also been leaning on Kate for advice as she joins the Royal family."
The source noted that one of the downsides of becoming a royal is your social circle dwindles down a bit. That's part of the reason why Markle and Middleton's friendship has reportedly gotten stronger. They said, "Meghan has also turned to Kate to keep her company as she has less flexibility roaming around freely since joining life as a future member of the Royal Family." And adjusting to a more private life (despite the constant paparazzi coverage, unfortunately) has been a new experience for Markle as well, according to the source. "Meghan is adapting to a life without her social media accounts, under the constant scrutiny of the paparazzi, with help from Kate," they revealed.
If you're hoping this is means Kate Middleton will be part of Meghan Markle's bridal party — maybe even her Maid of Honor — don't hold your breath. While it's true their friendship is a close one now, Markle will reportedly "choose one of her closest friends who has stood by her for many years before meeting Harry." Middleton will of course be involved in the wedding since she's part of the family, as will Prince William, Prince George, and Princess Charlotte, but adult bridal parties aren't really part of royal tradition in the first place, so Middleton was likely not going to be part of Markle's due to royal tradition. But don't worry, all signs about Prince Harry, Meghan Markle, Prince William, and Kate Middleton point to them getting along well.
Markle is bending tradition a bit on the bridal party front. As previously reported, she has chosen to go with the American tradition of having a Maid of Honor instead of a Chief Bridesmaid like English tradition states. According to Town & Country, a royal bride's bridesmaids are usually children. Middleton bent this tradition as well when she included her sister, Pippa, in her bridal party for her 2011 wedding.
With the wedding coming up in less than two months, Middleton has been giving Markle a crash course in being a royal. A source told Us Weekly that Middleton "will give Meghan advice about adapting to the royal family," and "that if she ever needed anything, she shouldn't hesitate to get in touch." She's reportedly so willing to help Markle out because 1) we've already established they're friends, and 2) she and Markle share the unique circumstances of marrying into a royal family without first being a royal themselves. "Keep in mind," the source said, "the aides advising Meghan now are of the same position at the palace as the ones who advised Kate when she first got engaged to William." Meghan Markle and Kate Middleton will officially become family when Harry and Meghan tie the knot on Saturday, May 19.