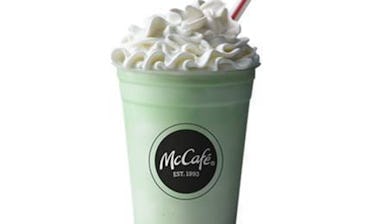 People Are Totally Obsessed With Shamrock Shakes & The Tweets Are Amazing
McDonald's
I don't know about y'all, but Shamrock Shakes give me life. Once a year, McDonald's adds its seasonal tasty treat to its menu, and it's a very exciting time. These tweets about Shamrock Shakes prove that we're all obsessed with this St. Patty's inspired beauty.
After a long year, McDonald's beloved Shamrock Shake returned to us on Feb. 21. Since it's a seasonal item, unfortunately this green beverage won't be around for too long. In fact, it's planned to be saying its goodbyes on St. Patrick's Day, which is on March 17. (So if y'all need to find me I'll be in the McDonald's drive-thru line until then.)
The return of the Shamrock Shake is clearly an extremely anticipated affair, and why wouldn't it be? While many green drinks have a slightly bad rep, rest assured this is no kale smoothie. Have you even heard about what this drink tastes like? It's a combination of vanilla ice cream with a slight hint of mint exact. Aka absolute heaven. If you haven't tried one yet, you're seriously missing out.
Don't trust my opinion on its own? Well I have some expert witnesses to testify that the Shamrock Shake is a gift to this planet. Just see for yourself.
There are those who believe Shamrock Shakes are life.
Some are feeling #blessed that Shamrock Season has finally arrived.
And pour one out for those robbed of their Shamrock Shakes.
Huge mood.
For those dying to enjoy a Shamrock Shake and wanting to skip the drive thru line, it's a super easy recipe to make and often only takes 10 minutes to whip up. All you need is vanilla ice cream and mint extract - from there you can put your own twist on it.
I'm not going to lie though, there's something about McDonald's Shamrock Shakes that make them extra special. Unfortunately, some Shamrock Shake fans won't be able to enjoy the blended beverage for a few reasons. One, because sadly McDonald's is known for its problematic ice cream machine and two, because not all locations are offering the seasonal drink. Never fear! There's apparently a Shamrock Shake Finder App, and it'll take you to the closest McDonald's location offering its seasonal menu item. The app is available for both iPhone and Android users, because the Shamrock Shake never discriminates. Plus McDonald's is on Uber Eats, so if you're itching to fix that nasty hangover while training for St. Patrick's Day then the Shamrock Shake is calling your name.
I don't care what Black Mirror says, technology is amazing.
While everyone isn't a Micky D's fan, you can opt for a few other options to enjoy. Starbucks has a few similar drinks to the Shamrock Shake on its menu, including the Chocolate Mint Frappuccino, Peppermint Pow Frappuccino, Lucky Leprechaun Frappuccino, Skinny Mint, and the Green Safari Frappuccino. Just like the McDonald's Shamrock Shake, these delights also have mint and vanilla in the recipe. Celebrate St. Patrick's Day whenever and wherever.
Clearly this milkshake is where it's at. After all there's an actual app to track them down. So what's the hype all about? This drink has quite a history. The Shamrock Shake was first introduced all the way back in 1970 by its original name the "St. Patrick's Day Shake." While it may be a delicious treat today, the original recipe called for vanilla ice cream and lemon-lime sherbet. Thankfully we ended that disaster, because in 1983 the idea to mix vanilla ice cream with mint extract was introduced, and from there the Shamrock Shake we know and love today was born.
So what are you waiting for? Why are you still reading this? Why aren't you on your way to get a Shamrock Shake right now?
Cheers, and enjoy!