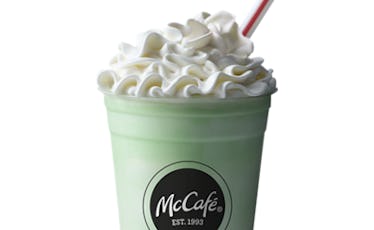 If You Love McDonald's Shamrock Shake, These Starbucks Drinks Will Be Your New Obsession
McDonald's
Whether you're a seasoned Shamrock Shake fan, or if you're just now discovering it, there's no denying that it's one of the best milkshakes of all time. The rich creaminess of the shake combined with refreshing hints of mint makes for a really incredible beverage. Like, the mere thought of it literally gives me chills. So if you're totally obsessed with the green McDonald's superstar, here are five Starbucks drinks that taste like Shamrock Shakes... because if you couldn't tell, we really can't get enough of them.
Since Starbucks is essentially the "kween" of caffeine, a few items on their secret menu kind of mimic the idea of a Shamrock Shake, while providing all of us with a morning boost. And in addition to maintaining that minty fresh taste, each of these drinks manages to give a perfect green hue, just like the Mickey D's version... so you'll really be feeling St. Paddy's Day-ready, just after a few sips. Even though everyone says "it's not easy being green," these drinks basically prove that being green is, in fact, much tastier and more refreshing... and that's all any of us really need in our to-go cups. So, here are our top Starbucks faves.
1. Chocolate Mint Frappuccino
If you're looking to slurp what literally tastes like mint chocolate chip ice cream, just ask for a Chocolate Mint Frappuccino off of the Starbucks secret menu. For a tall, order a Green Tea Frappe, and add one pump of classic syrup, three pumps of peppermint syrup, two scoops of vanilla bean powder, one scoop of protein powder, and one pump of mocha sauce. Then, top it with whip, mocha drizzle, and a sprinkle of matcha powder. It tastes like freaking thin mints and I am so down to have one RN.
2. Peppermint Pow Frappuccino
According to Starbucks' secret menu, the Peppermint Pow Frappe literally tastes like a mint milkshake (aka what we'd call a Shamrock Shake). So if you're at Starbies but you're really craving one of those Mickey D's classics, this should be your go-to order. If your barista isn't familiar with this secret menu item, a tall calls for a Nonfat Vanilla Bean Frappuccino, one pump of peppermint syrup, two scoops of matcha green tea, and whip on top. Simple, delicious, and minty AF.
3. Lucky Leprechaun Frappuccino
The description of a Lucky Leprechaun is slightly reminiscent of 2017's now-defunct chocolatey Shamrock Shakes combos, with a hint of green tea. For a tall, just order a Green Tea Frappe, along with one pump of peppermint syrup, and some java chips. It's a little easier to remember, and the simple taste really has me going for the rest of the day.
4. Skinny Mint
Hey vegans, you don't have to feel left out of the St. Patrick's Day fun, because the Skinny Mint is sort of like a dairy-free version of the Lucky Leprechaun. Just order a Green Tea Frappuccino with soy, and if you want, ask for it to be sweetened with Splenda. Then add one pump of peppermint syrup... and that's it. If dairy totally is not your friend (holla), then a Skinny Mint is probably the way to go for all of your dietary needs.
5. Green Safari Frappuccino
The Green Safari is a little different from the rest of these. It isn't minty, but it is bright green, and TBH, it's totally perfect for all of your St. Paddy's Day adventures. To order a tall, ask for a Green Tea Frappuccino, add 1.5 pumps of hazelnut syrup, one pump of caramel syrup, java chips, and whip. If you're not completely enthused by the taste of mint, but you don't want to be left out of that Shamrock Shake aesthetic, this will absolutely give you the festive look you want.