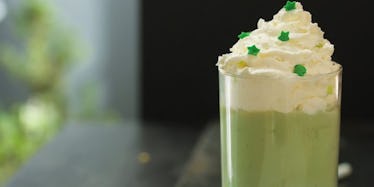 McDonald's Releases 4 New Shamrock Shake Flavors Because We Deserve Happiness
Shutterstock
Forget about the french fries and the Oreo McFlurries because shamrock season is right around the corner, baby -- and we can't wait.
In my opinion, Shamrock Shakes are the best seasonal item on the McDonald's menu, and I've been anticipating their annual debut since last year.
If you love the festive frozen treats as much as I do, then I have a surprise for you.
McDonald's just announced its releasing four different flavors of the Shamrock Shake this year, Brand Eating reports.
That's four new opportunities to indulge in the minty deliciousness of the famous shake, so get excited.
The new flavors will be created by combining the shake with chocolate in various different forms (each one looks delicious AF, though).
They will include the Chocolate Shamrock Shake, Shamrock Chocolate Chip Frappe, Shamrock Hot Chocolate and a Shamrock Mocha.
That's right: Our beloved Shamrock Shake is finally collaborating with mocha and espresso to create minty beverages that'll make our St. Patrick's Day season extra lucky.
The best part about the surprise is that not all of the variations are served frozen.
The Hot Chocolate Shamrock Shake and the Shamrock Mocha will be served hot, so feel free to start your morning off with a warm, minty pick-me-up (I know I will be).
The Chocolate Shamrock Shake and the Shamrock Chocolate Chip Frappe will be served frozen, just like the OG Shamrock Shakes we've become accustomed to.
It's been reported by Consumerist the new Shamrock Shake flavors were inspired by the "secret menu" shake lovers tend to order from around this time of year.
Apparently, customers often ask McDonald's employees to add the Shamrock Shake syrup to their go-to beverages on the reg.
Thankfully, with the upcoming Shamrock Shake flavors, they won't have to make their own unique requests anymore.
The Shamrock Shake and all its new flavor variations will be released on February 7... so start debating which one you're going to try first.
I'm feelin' the Shamrock Mocha, but that's just me.
Citations: McDonald's Debuts New Shamrock Shakes (Brand Eating)