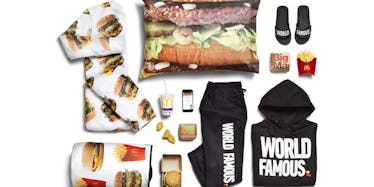 McDonald's Is Giving Away Free Merch For A Day And We're Seriously Loving It
McDonald's does just about anything in its power to make customers happy -- and now, they're giving lucky customers free McDonald's merch.
Before this generous surprise, the fast food company released their secret Big Mac Sauce to the public. Then, they started their coveted McDelivery service with UberEATS. Now, Mickey D's is releasing a line of McDonald's clothing and accessories.
Needless to say, we're lovin' it.
As if the Golden Arches don't already have us sprung on their delicious Big Macs and equally as tasty fries, the McDelivery collection is here to celebrate the already popular McDelivery service — which was created in conjunction with UberEats — going global on July 26.
I mean, honestly, what would drunken nights be without McDelivery? Now, it'll be available in select locations all over the world -- and hungry snackers will be pleased.
So, what items can you expect to see in the McDelivery collection?
You'll find a "World Famous" tracksuit...
OK, this tracksuit is really simple and looks really comfortable. I can see myself in this.
A pair of "World Famous" slides to go with your tracksuit...
Forget about the Fenty slides that kept you up at night. You'd be a lot comfier in these "World Famous" slides.
A Big Mac onesie...
I know you want this. Don't lie.
A Big Mac pillow case set...
Try not to drool all over these.
And a delicious picnic blanket.
You can get your hands on these items on July 26 at participating locations for a very limited time (one day, to be exact). The best part about it is the merch is free with any McDelivery order via UberEATS while supplies last.
There's no word on whether these items will be available for purchase further down the line, but if you miss getting your free merch this time around, you might have another opportunity to snag your swag during another "fun McDonald's moment."
In the meantime, I'll just mark my calendar for July 26 and hope that I'm lucky enough to snag some McDonald's-themed merch. I can already see myself rocking my Big Mac onesie everywhere.